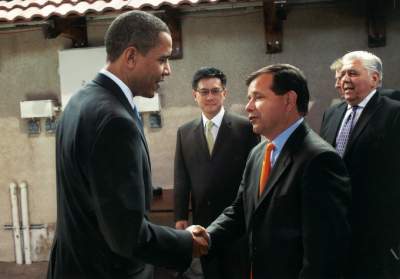 As expected, Santa Ana Mayor Miguel Pulido is winning handily tonight.  The O.C. Voter Registrar has posted the early returns, which are absentee ballots. Here are some of the evening's highlights:
Mayor Miguel Pulido has a whopping 7,454 votes – David Benavides only has 3,676 votes.  George Collins is nipping at Benavides' heels with 2,523 votes
In a shocker, the unknown schoolteacher Angelica Amezcua is leading in Ward 3, with 6,637 votes, while Santa Ana Planning Commissioner Eric Alderete has 5,097 votes and former Council Member Brett Franklin has 4,172 votes.  It is early yet but if this trend continues then Franklin has a good shot as the Latino vote in Ward 3 is clearly split.  There are however three candidates splitting up the white vote – Charles Hart, Shane Barrows and Steve Rocco.
Council Member Vince Sarmiento is being embarrased by another Amezcua – Estela, over in Ward 1.  She has 5,832 votes, with no ballot statement, no signs and no mailers.  Wow.  And Sarmiento has 8,509 votes after blowing a fortune on ridiculous mailers.
In Ward 5, predictably, Roman Reyna is winning.  I tried to help Karina Onofre but she refused to spend money on mailers.  Grassroots campaigning is great too but in Santa Ana you have to get in the mail and Reyna did – even though his clip on tie mailer was pretty funny.
Ceci Iglesias is kicking butt over in the SAUSD race!  She is in second place with 6,585 votes while Rob Richardson has 8,203 votes and is in first place.  Jose Alfredo Hernandez is in third with 5,896 votes and the deplorable Valerie Amezcua is in fourth place, which means she is losing, with 5,772 votes.  So the only Amezcuas doing well tonight are the ones not related to Alfredo Amezcua!
Regrettably Measure GG and Measure Q are winning – but no one challenged them.
Over in the Rancho Santiago Community College District's Board of Trustee Races, Mark McLoughlin is winning in Area 5, with Claudia Alvarez behind him and Dave Chapel right behind her.  It is going to be a long night for all three of them.  In Area 3, Nelida Yanez and Thomas Gordon are neck and neck.  Too early to call that one too.