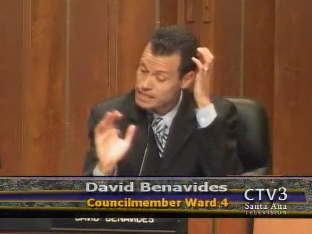 Santa Ana Mayoral challenger David Benavides wasn't on the ballot two years ago, as he had no opponent for his City Council seat.  The last time he appeared on the ballot was six years ago, back when he still mentioned his wife and family on his fliers and websites.
So it was a daunting task for Benavides to ramp up his name I.D. this year in a few short weeks, having announced his mayoral campaign rather late in the game.
As such I think he is going to be toast on Tuesday, Nov. 6. But what about the other races? Who will win?  Comment here with your picks, including estimated vote percentages and whoever gets the closest will win a free banner ad on our blog for one month, for the business or non-profit of their choice.
Here are my predictions:
Santa Ana Mayors Race:
Mayor Miguel Pulido soundly thrashed Alfredo Amezcua two years ago, and that was despite the quarter million that Amezcua spent on his failed campaign.  Benavides raised a lot of money too, but he did so too late and spent it too late.
I believe Pulido will win by at least 25% of the vote.
It doesn't really matter who comes in second or third.  This isn't Little League Baseball.  There are no consolation ribbons for the losers.
Santa Ana City Council, Ward 1:
Incumbent Vincent Sarmiento was embarrassed four years ago when he ran against Jim Walker.  He won but by a much closer margin than anyone predicted.  This time he has been challenged by an unknown teacher, Estela Amezcua.  She has not run a campaign but I expect her go get a chunk of votes anyway.  Sarmiento simply isn't as popular as he thinks he is.  And folks are tired of his wishy washy ways and his support for every single tax increase on the November ballot.  Amezcua got four votes in my household.
Santa Ana City Council, Ward 3:
A tough race to call.  Brett Franklin is the defacto incumbent as the previous Council Member in this Ward, before the disgraced current Council Member, Carlos Bustamante.  Franklin has very high name I.D. that his top challenger, Planning Commissioner Eric Alderete simply doesn't have yet, not with just six years in our city.  Franklin grew up here.  Alderete is a product of East Los Angeles.
That said, this is a tough race to handicap.  There are too many candidates.  In the end the votes the other guys get may keep Franklin out of the winner's circle.  Or maybe not.  We'll have to wait and see.
Santa Ana City Council, Ward 5:
Talk about a downgrade, from O.C. Prosecutor Claudia Alvarez to one term SAUSD Trustee Roman Reyna, who allegedly is currently jobless.  But the good news is that businesswoman Karina Onofre is giving Reyna a run for his money. No, she didn't send out any mailers, but she did work hard.  This race may be closer than folks think.
Measure GG:
I fought this fraudulent term limit measure the best I could but no campaign materialized.  And the Yes on GG side was fully funded by out of town apartment developers.  So no, I can't see winning here but I remain hopeful that our voters won't be fooled by a term limit measure that gives the Mayor 8 years on the Council while handing the Council Members 12 years.  This is unfair on its face.
Measure Q:
Santa Ana's voters just love to increase their taxes.  But just watch, if this thing passes the Rancho Trustees will quickly pass a union only PLA and shut non union contractors out of the bidding on the ensuing construction projects at Santa Ana College.  The money wasting will begin very quickly.
SAUSD School Board:
Three seats to fill.  I can't see incumbents Rob Richardson and Jose A. Hernandez losing.  But only one challenger can win.  Myriam Tinajero and Valerie Amezcua are fighting over the same far left voters.  That means Ceci Iglesias may surprise us and win the open seat being vacated by Reyna.
Rancho Santiago Community College District Board of Trustees:
Area 1:
Jose Solorio has no challenger in Area 1.
Area 3:
Can underdog Tony Tapia win?  He is the only candidate to promise not to accept health and retirement benefits. That could put him over the top.  But challenger Nelida Yanez was in the mail and got the Benavides bunch to back her.  The only clear loser in this race is Thomas Gordon.  There just aren't enough white Republican votes in this Area to put him over the top.
Area 5:
Speaking of white guys, Mark McLoughlin and Dave Chapel are going to split the white vote in Area 5, likely allowing Santa Ana Mayor Pro Tem Claudia Alvarez to prevail.  But McLoughlin in particular has run an aggressive campaign.  His Spanish language mailer claimed he was an educator.  His Republican mailer insinuated that he is a Republican.  He will clearly say or do anything to get elected.  Did Alvarez work hard enough to beat him?  We'll have to wait and see.
69th A.D.: Regrettably, it is likely that career politician Tom Daly will win.  His opponent, Jose Moreno, was done in by an obscure Federal law, the Hatch Act, which does not allow some municipal employees to run for legislative seats.
72nd A.D.: Travis Allen has edged out crooked Los Alamitos Council Member Troy Edgar, and Allen has support from major Democrats and Republicans.  This race is over.  Edgar is toast!
 46th C.D.: Loretta Sanchez will win again, over carpetbagging Republican Jerry Hayden.
So what are your election predictions?