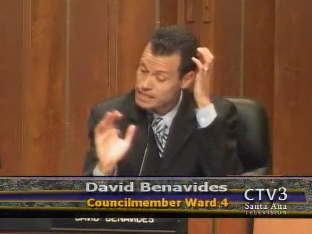 Santa Ana Mayoral challenger David Benavides wasn't on the ballot two years ago, as he had no opponent for his City Council seat.  The last time he appeared on the ballot was six years ago, back when he still mentioned his wife and family on his fliers and websites.
So it was a daunting task for Benavides to ramp up his name I.D. this year in a few short weeks, having announced his mayoral campaign rather late in the game.
As such I think he is going to be toast on Tuesday, Nov. 6. But what about the other races? Who will win?  Comment here with your picks, including estimated vote percentages and whoever gets the closest will win a free banner ad on our blog for one month, for the business or non-profit of their choice.
Here are my predictions: Continue reading→