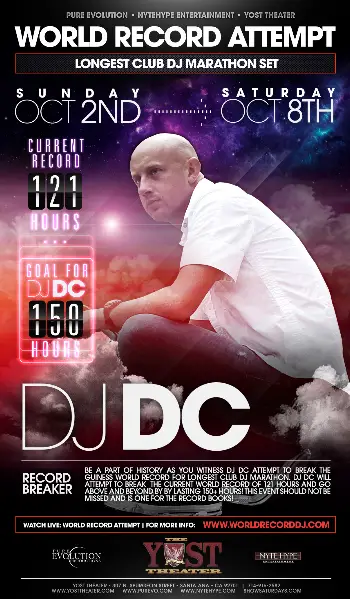 Starting Sunday, October 2nd, 2011 through October 8th, 2011 DJDC will attempt to play the world's longest DJ set to date! He is prepared to spin for 150 hours straight at Downtown Santa Ana's historical Yost Theater. Be sure to come to the Yost Theater to cheer on DJDC while he pushes through to out-spin the current record of 120 hours and 19 minutes held by his rival, DJ Swiss.
Be a part of history as you witness DJDC attempt to break the Guinness World Record for "Longest Club DJ Marathon!" DJDC plans to smash through the current world record of 120 hours and 19 minutes held by DJ King, by playing for an ADDITIONAL 30HRS for a marathon totaling 150 hours! No DJ has ever come close to successfully completing a marathon of this length but DJDC is confident that he will be the first. One thing is for sure, if he completes his goal his name will be in the record books for a long, long time.
This record breaking event will take place at the newly renovated Skybox room in Yost Theater, a way to properly break in this new addition to Santa Ana's historical venue. Doors will open on October 2nd at 7:30pm and the venue will remain open every day and evening with the exception of from 2-6 am through October 8th. The best part, even if attending this event live is not an option, Yost Theater and Pure Evolution have made it possible to tune in live at: http://worldrecorddj.com!
Check this out on Facebook at: https://www.facebook.com/pages/World-Record-DJ-DC/189787681092741.