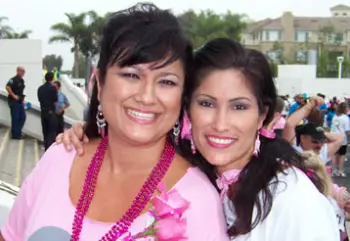 FOR YOU, FOR THEM. GET A MAMMOGRAM.
Free mammogram sign-ups at Northgate Market to kick off Breast Cancer Awareness Month
WHAT: Eligible women have the opportunity to sign up for free clinical breast exams and screening mammograms through a partnership between Komen Orange County, Northgate Market and YWCA North Orange County
To kick off October as breast cancer awareness month, Puerto Rican actress Adamari Lopez will be attending the Sept. 30 event for a special in-store appearance.
WHEN: Friday, Sept. 30; 5 – 7 p.m.
WHERE: Northgate Market, 230 Harbor Blvd, Santa Ana, CA 92703
WHO:
· Women 40 years and older
· Women with a low household income
· Women with no medical insurance or an insurance that has a high deductible or co-payment
FOR MORE INFORMATION CALL AMBROCIA LOPEZ AT THE KOMEN ORANGE COUNTY AFFILIATE AT (714) 957-9157
BACKGROUND:
· Komen for the Cure is the world's largest grassroots network of breast cancer survivors and activists fighting to save lives, empower people, ensure quality care for all and energize science to find the cures.
· For more information on the Orange County Affiliate of Susan G. Komen for the Cure, please visit www.komenoc.org.