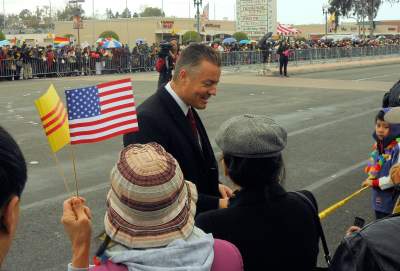 Did the gay activists who insisted that their supporters who are elected officials boycott the Tet Parade, in Little Saigon, this past Sunday actually hurt their political allies?  Rest assured that the Republican elected officials, including Assemblyman Travis Allen (pictured above) were very well received by the masses at the Parade.
RSCCD Trustee Jose Solorio, for example, showed up in a car he was sharing with Ken Nguyen, the leader of a local Vietnamese American charity.  But Solorio jumped out of the car, to go hang out with the gay activists, leaving Nguyen to navigate his way through the rest of the parade, without Solorio (see the picture below).  It made for a bizarre image.  The worst part is that Solorio hopes to run for the 34th State Senate District in just two years – and now he has some explaining to do to the entire Vietnamese American community in Little Saigon!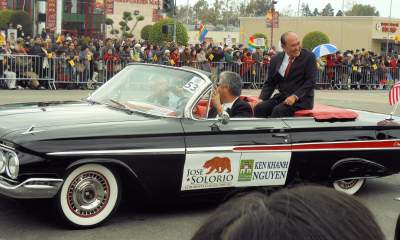 State Senator Lou Correa terms out in 2014, and he is expected to run for the State Board of Equalization. But he skipped the Tet Parade too.  There go a lot of Vietnamese American votes!
And the entire Santa Ana City Council blew off the Parade.  But the Garden Grove City Council was there.  So was Fountain Valley's Mayor Pro Tem, Michael Vo.  Voters will remember this slight by Santa Ana's Council Members.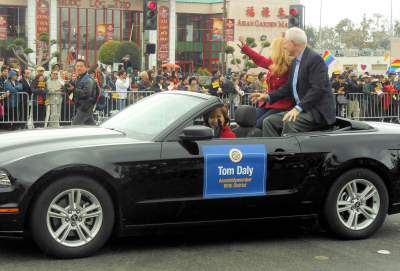 Assemblyman Tom Daly did not follow Solorio's lead.  Daly, a Democrat, did stop by to visit with the gay activists but then he got right back in his car and continued to greet the over nine thousand people who were in attendance.  This will help him when he runs for re-election in 2014.  He now has a leg up on whichever Santa Ana Council Member ends up running against him.
Click here to find out who the other politicians were who either boycotted the parade and to see more pictures of the politicians who showed up to participate in it.