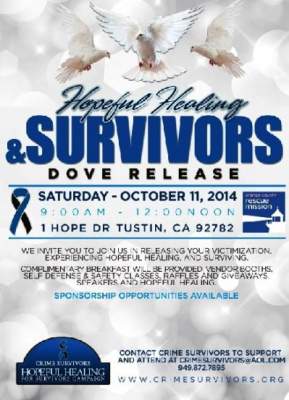 FOR IMMEDIATE RELEASE: October 9, 2014
Contact: Patricia Wenskunas, crimesurvivors@aol.com, (949) 872-7895
Hopeful Healing and Survivors Dove Release
Hope is coming this Saturday…
Families of Murder and Survivors of Attempted Murder, Domestic Violence, Rape, Sexual Assault, Child Abuse, Elder Abuse and Human Trafficking are gatther for a free Crime Survivors event on Saturday, October 11, 2014.
The event will include:
Survivors Dove Release and Hopeful Healing Day
Complimentary Breakfast: Pancakes, Eggs, Sausage, Juice, Coffee & Waters
Special Guest Speakers
Resources and Vendors
Entertainment
Healing Messages
Survivors Dove Release
Hope for Families
Awareness. Prevention. Survival and Hopeful Healing
WHEN: Saturday, October 11, 2014
9:00 Registration and Breakfast
9:45 Welcome by Crime Survivors
9:50 Invocation by Jim Palmer
9;55 Pledge of Allegiance
10:00 Special Guests / Sponsors
10:10 Self Defense and Safety Class
10:45 Survivors Dove Release
11:15 Healing Messages
11:30 Opportunity Drawing
WHERE: Orange County Rescue Mission @ One Hope Drive, Tustin, CA 92782
WHO: Crime Survivors, Inc.
The Mission of Crime Survivors is to provide hope and healing to victims and survivors of crime through advocacy and the support of resources, information, and empowerment from the critical time after a crime occurs through the challenges and successes of surviving and thriving.
Crime Survivors Values are that:
We believe that no one should feel abandoned or alone and that every person is deserving of love, respect and dignity.
We believe that the best way to help others with hope and healing is to work in partnership with our community, law enforcement, elected leaders, and members of the media.
We believe that all of us together can lift each other out of darkness and into the light of a restored heart and life.
We believe that every broken heart, every hurt, every wound can be healed with love and a strong community of support.
We believe in hopeful healing.
We believe that with faith, there is always hope.
www.crimesurvivors.org
####