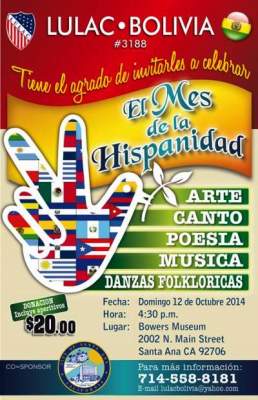 LULAC-Bolivia Invites You to Celebrate Hispanic Heritage Month at the Bowers Museum
Live Music, Dance and Poetry from the Americas on Sunday, October 12 at 4:30 pm
In celebration of "Hispanic Heritage Month," LULAC-Bolivia is honored to present talented Latino singers, dancers, poets and artists on Sunday, October 12 at 4:30pm at the Bowers Museum in Santa Ana. LULAC #3188 promises an evening of color and a touch of Latino magic through the exhibition of our finest work.
In an effort to keep our Latin American multiculturalism, poetry, music, art and folklore vibrant, LULAC-Bolivia has invited a variety of artists from several countries to perform, including Mexico, Argentina, Nicaragua, Peru, Colombia and Bolivia.
This event will take place on Sunday, October 12, at 4:30 pm at the Bowers Museum in Santa Ana. Please accept this opportunity to be present at one of LULAC-Bolivia's most special gatherings.
The cost of the event is $20 per person. Refreshments will be provided. For more information, please call (714) 558-8181 or email lulacbolivia@yahoo.com.
The Bowers Museum is located at 2002 N. Main in Santa Ana, a minute from the 5 freeway at Exit S. Main, and conveniently close to the 22, 55 and 57 freeways. For more information on upcoming exhibits and events at the Bowers Museum, please visit www.bowers.org.
GROUPS:
ALTURAS – International Andean musical group
Ballet COCO – Mexican/Colombian dance group
Monique Pineda- Peruvian Art
Sin Limites – Argentine musical group
Nuevo Mariachi International – Mexican musical group
Caporales San Simon – Bolivian dance group
Wayna Pacha – Bolivian folklore
El Capitan de la Bachata – Salvadoran musical group
Mario Castillo and Francisco Mayorga – Poets from Nicaragua
###