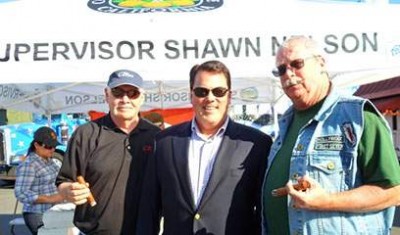 Care Packages Rally Set for October 26
By: OC Supervisor Shawn Nelson
Supervisor Shawn Nelson will help collect and donate care package items going to Kabul, Afghanistan at his "Cigars for Heroes" collection rally on October 26. Veterans, military family members and citizen-patriots are welcome to stop by and drop donations, take pictures and savor a cigar while collecting items that will be sent to active-duty military in November.
Continuing his legacy of supporting active duty military stationed overseas with a taste of freedom from appreciative family, friends and Veterans in OC, Supervisor Shawn Nelson announced today that he will host the 4 hour rally at Vintage Cigars, located at 3734 S. Bristol, Santa Ana (South Bristol at Callen Common behind the Bank of America), from 1:00-5:00pm, Sunday, October 26.
This year's charity will honor Captain Shane Yates, a Chaplain assigned to the 162nd Infantry Division who is now in Kabul, Afghanistan. Yates ministers to front-line combat troops who are bunkered in forward operating bases in remote mountain and desert posts. His ministry allows him to deliver prayers, mail and fresh cigars to battle-weary troops who cheer his arrival when he steps off a gunship transport.
Captain Yates lives in Placentia, has a wife, Karon, who is active with the Healing Heroes Ministry, a son who is active-duty military and another son (Travis) playing football for Orange Lutheran High School. Captain Yates is also a coach at Orange Lutheran serving the freshman football team prior to his deployment.
The Orange Lutheran football teams has dedicated their season and prayers to the safety of the 162nd and wear their division patches as stickers on their football helmets, according to Karon Yates, to honor his courage and faith in combat.
The purpose for the rally is to accept donated items requested by the troops. Other than cigars, products most requested included protein powder packs, ground coffee, beef jerky packets, top ramen soup, flavored water packets like Crystal Light, energy powder mixes, mixed nuts, candy, microwavable foods, protein bars, magazines, gum, mints and stationery for writing home.
All the donated food items, along with cigars, will be packaged up and sent to Captain Yates at the front for distribution to the troops from the residents of Orange County.
Please bring your donated items to the rally on Oct 26th or drop them off at the offices of Shawn Nelson at the OC Hall of Administration, located at Broadway and Santa Ana Blvd., Santa Ana, Fourth District, located on the fifth floor.
Cigars can be either purchased on-site on the day of the event or we can convert donated funds toward the purchase on your behalf.
If you have any questions on this project to honor America's Bravest, or have any desire to help, please contact Steve Spernak at (714) 834-3542 or email him at Steve.Spernak@ocgov.com.
###