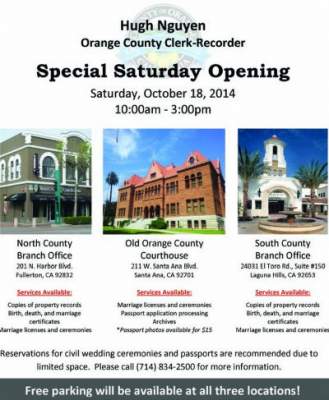 Saturday Clerk Services for Busy Workers and Families
Special weekend hours for the Orange County Clerk-Recorder Department will again be available Saturday, October 18 from 10:00 a.m. to 3:00 p.m. at the Old County Courthouse in Santa Ana and the department's branch offices in Laguna Hills and Fullerton.
As the special Saturday openings have surged in popularity, especially with families and those who work during the week, additional Saturday hours are being planned once a month through the end of the year.
Please check www.ocrecorder.com for exact dates and times. FREE parking will be available at all three locations.
For more information, please click here.