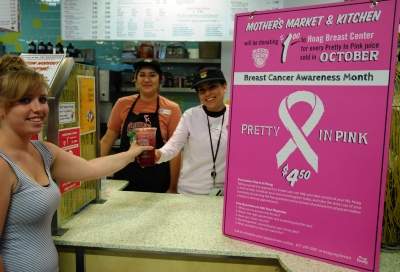 For the second consecutive year during the month of October, "Breast Cancer Awareness Month," Mother's Market & Kitchen will be serving its "Pretty in Pink" juice and donating a portion of the sales to Hoag Breast Center.
The juice, which contains a special mix of beets, apple, grapes and lime over ice, will be served at all Mother's Market's juice bars located in its 7 Orange County stores, including Anaheim Hills, Brea, Costa Mesa, Huntington Beach, Irvine, Laguna Woods and Santa Ana. Mother's Market & Kitchen is a natural and organic foods retailer.
Hoag Breast Center is the largest provider of breast care services in Southern California, performing more than 50,000 screening mammograms and diagnosing and treating more than 700 patients with breast cancer in 2012. Among the largest breast care facilities in the U.S., the center is the first and only in Orange County to be designated as a Certified Quality Breast Center of Excellence™ by the National Consortium of Breast Centers.
Mother's Market in Santa Ana is located at 151 E. Memory Lane, in the CityPlace Shopping Center.
Hours:
Weekdays: 8 am – 10 pm
Saturdays: 8 am – 10 pm
Sundays: 8 am – 10 pm
Juice Bar: 8 am – 9:30 pm
Cafe and Restaurant: 8 am – 9:30 pm