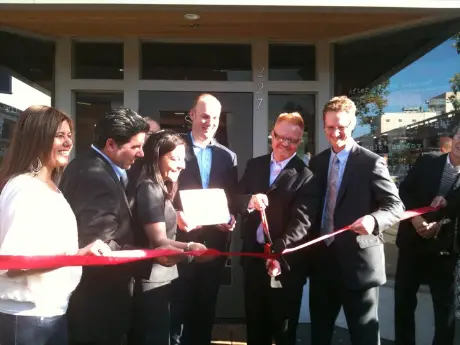 Chapter One: the modern local celebrates their grand opening
Chapter One: the modern local, brought out the big scissors and ribbon to host their official grand opening on Friday, May 20th at 5 p.m.
As the newest addition to the vibrant Artists Village in Downtown Santa Ana the modern local celebrated with their loyal customers, the Mayor and City Council members during a ribbon cutting ceremony. Following the festivities, tapas and drinks flowed all night.
Tim O'Connor, Jeff Jensen and Jeff Hall quietly opened Chapter One on St. Patty's Day, and have been creating a buzz throughout the Orange County and Los Angeles communities since. With a focus on a seasonal, farm-to-table-fare, ingredient-driven menu and a worldly beverage program, Chapter One has already created an enthusiastic following.
Their motifs including; daily After Office specials, Late Night Kitchen, live music and brunch on Sinatra Sunday's, Tentacle Tuesdays, Wine Dinner Wednesdays, and Service Industry Nights have made Chapter One: the modern local a downtown destination. This public house that goes further to celebrate its "local," is a product of its ideals and creative style as well as its community and local history, and they are excited to be a part of the next chapter of this city's prosperity.
About Chapter One: the modern local
You feel the pulse of the local as you arrive. The flame of the kitchen, the sound of the tins, the buzz of the crowd: a welcoming swirl of energy. The interior blends the comfort of home with the excitement of downtown, while the staff embraces you with their hospitality like an old friend. There is something for everyone, but nothing guests will ever forget. The local produce and seasonal fare will satisfy your appetite as well as your imagination, while the handpicked selection of beers, wines and spirits from across the globe complement your plate and elevate your experience.
Chapter One: the modern local is located at 227 N. Broadway, Downtown Santa Ana, 92701, and is open daily from 11 a.m. – 2 a.m. Call (714) 352-2225 or visit http://chapteronetml.com/ for more information. You can also like the restaurant on Facebook or follow them on Twitter.