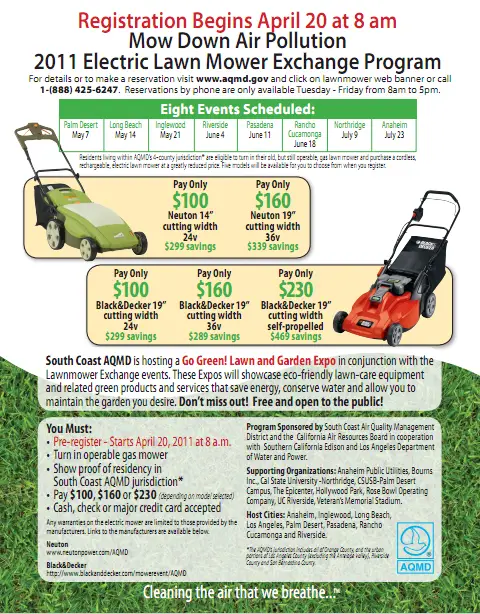 How would you like to get rid of your gasoline powered lawn mower and exchange it for a new electric lawn mower – that won't pollute our environment?
The South Coast Air Quality Management District (AQMD) is hosting a lawnmower exchange program on July 23, in Anaheim.
Residents living within the South Coast Air Quality Management District's 4-county jurisdiction are eligible to participate in the 2011 Electric Lawn Mower Exchange program. This region includes all of Orange County.
Pre-registration is required to exchange your lawnmower.
Unlike previous years, in order to be eligible to buy a new, cordless electric lawnmower for $100 under this year's program, you must pre-register on the AQMD web site (www.aqmd.gov), or by calling our toll-free phone number (888) 425-6247. When you pre-register, you will be given a confirmation number, and a ½-hour time slot during which to come to the exchange site of your choice. Pre-registration is first come, first served.
Limit of one mower per residence.
Your old gasoline mower must be in operating condition to qualify for the trade-in.
The purpose of the program is to eliminate the emissions caused by old gasoline-powered mowers that would otherwise continue to be used.
What happens if you don't appear at the exchange site during your pre-registered time slot?
Your confirmation guaranteeing you a mower is only good for the site and date you selected. We encourage you to arrive at the exchange site during your scheduled ½ hour time slot – not earlier and not later – to reduce traffic backups at the site. If you do not show up by the last time slot for the day you scheduled, your reservation will expire and cannot be used for another event.