A reader told us yesterday that there were a lot of SAPD police cars and a police helicopter near the Smart & Final store, located at 1308 W. Edinger Ave. Now we know why.
Fernando Ceja, a 32-year-old wanted parolee with a long history of crime, and his girlfriend, Martha Carraco, 24, both of Santa Ana, were arrested yesterday and charged with stealing a pickup truck and then trying to hide in the unfortunate Smart & Final store, according to the O.C. Register.
This mess started at 12:30 p.m. yesterday when a man left his Toyota Tundra running, outside his home at the 2600 block of South Baker Street, next to Coastal Communities Hospital, while he went inside his home.
The man was returning to his truck when Ceja and Carraco jumped into the vehicle and sped off going North on Baker Street.
The O.C. Sheriff Department's helicopter spotted the stolen pickup truck and followed it to a parking lot on South Bristol Street and West St. Andrew Place.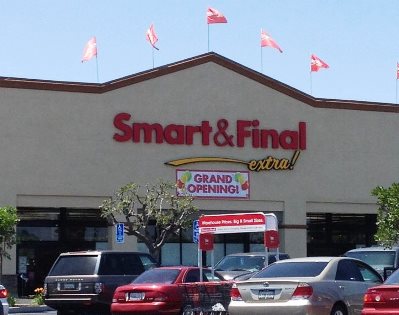 The suspects then got out of the truck and walked into the Smart and Final Store, which is located at West Edinger and South Bristol St., across the street from Mater Dei High School. and just north of Jose Andres Sepulveda Elementary School.
Remarkably, Carraco, once in the store, was somehow able to convince a female store employee to switch clothes with her in a scheme to blend in as a store employee. Ceja was able to procure a jacket from a store customer and he asked a female shopper to walk with him out of the store.
Ceja's plan was to leave the store and try to blend in with the crowd outside.
It seemed like a good plan but as they left the store, the female shopper saw the SAPD units that had surrounded the building and she ran back into the store, leaving Ceja to be arrested. He was charged with suspicion of grand theft auto.
Carraco was arrested too. She was charged with suspicion of possession of stolen property.
Fortunately no one was injured. The SAPD did not find any weapons.
Ceja pleaded guilty in 2007 to two felony counts of firearm possession by a felon and street terrorism. He was sentenced to more than 7 years for those crimes and for also admitting to criminal street gang activities.
Ceja also pleaded guilty in 2005 to felony possession of a controlled substance with intent to sell, street terrorism and sale or transport of a controlled substance.
No previous arrest information was available for Carraco.
This incident happened in Santa Ana's Ward 4, which is represented by Councilman David Benavides.