Educating Tomorrow's Citizens: The Primary Election Comes to César E. Chávez High School
Mock Election and Voter Registration Scheduled for January 21, 2016
(Santa Ana, CA) January 12, 2016: The students and parents at César E. Chávez High School are getting involved in the political process. On Thursday, January 21, American government students will cast their ballots in a marked election for the 2016 California presidential primary election.
The parents, community members and all eligible students will also be able to move another step closer to Election Day by registering to vote for the 2016 general election in the Orange County Registrar's office mobile unit. The O.C. "Vote Mobile" will be on campus throughout the day to accept registration documents and to assist in the mock election.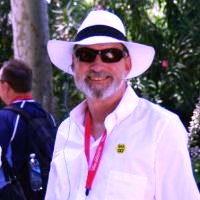 César E. Chávez High School is located at 2128 South Cypress Street, Santa Ana, CA, 92707. For information about the mock election and on-campus registration, please contact Mr. Mark Parchmann at 714-430-5700.

We are especially pleased to be working in conjunction with the Orange County Registrar's Office. For information about their role and the entire "My Ballot" initiative, contact Kristie Chen at 714-567-5143 or via email at kristy.chen@rov.ocgov.com.