Peter Ojeda, the head of an Orange County wing of the Mexican Mafia, and his former girlfriend, Suzie Rodriguez,  have been convicted of racketeering, conspiracy to commit murder and assault with serious bodily injury, as well as extortion and narcotics trafficking, by a federal jury in Santa Ana, after two days of deliberations, according to the Sacramento Bee.
Both Ojeda and Rodriguez are facing life sentences. Rodriguez was out on bond but will be returned to jail. Ojeda, who is 73-years-old, was due to be released from a 14-year federal prison term for racketeering in 2016 or 2017, with good behavior, according to ABC News. He will never be free again.
Ojeda's latest legal problems stemmed from "Operation Black Flag" a massive joint effort between local and federal law enforcement agencies that focused on both local members and associates of Ojeda's prison-based Mexican Mafia.  Nearly 100 gangbangers were indicted as a result of this operation and 31 additional gangbangers were charged with other gang-related crimes, by the O.C.D.A., according to the O.C. Register.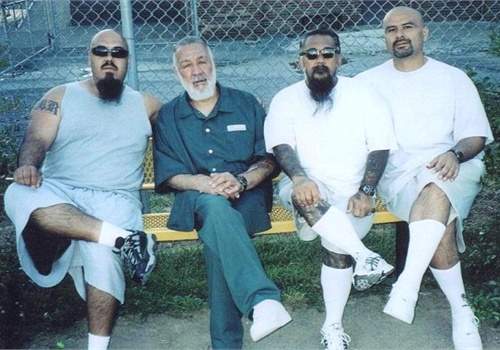 Ojeda was also known as "Sana," "The Big Homie" and "El Senor."  Failed Santa Ana Mayoral candidate Alfredo Amezcua, a criminal defense lawyer in Santa Ana, is said to have been the top lawyer for Ojeda.  In fact the L.A. Times identified Amezcua as an adviser for the United Gangs Council, in a 1993 article that also mentioned that Ojeda was a leader of this organization.  Both Amezcua and Ojeda were involved with efforts to end drive-by shootings in local neighborhoods.
Amezcua was also mentioned in another L.A. Times article in 1992, when another Urgan Gangs Council leader, Art Romo, was arrested, for alleged money laundering.  In that article Amezcua was referred to as their "unofficial legal and political adviser."
The Mexican Mafia ("La Eme") controlled street gang activity across Southern California although the leaders of "La Eme" were all in jail. They taxed drug dealers and anyone who got in their way was subject to assaults or even murder.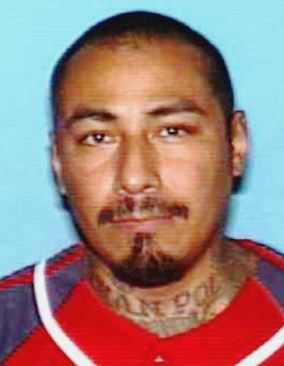 Ojeda was also involved in a power struggle with Armando Moreno, 44-years-old, a La Eme member who was once Ojeda's ally but then turned into his number one enemy.
Moreno ended up becoming a snitch. He testified in court that Ojeda was one of several gang leaders who supported him by making him a "made" member of La Eme.
Moreno was said to have met Ojeda while they were at a federal holding facility after Ojeda was convicted of racketeering in 2006. At the time Ojeda apparently asked Moreno to help him oversee Orange County gang activitities as Ojeda was sent to another state.
But the bromance between Moreno and Ojeda was not to last. Ojeda did not like it when Moreno's boys started muscling others in local jails. Eventually the two camps started fighting and several gangbangers were beaten badly while in local jails.
The Feds claim that Ojeda ultimately prevailed over Moreno when eh allied with several other La Eme veteranos from Los Angeles.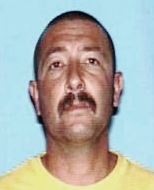 Another La Eme member, Glenn Navarro, also testified at Ojeda's trial. He said he was a Le Eme tax collector and that he collected "taxes" from local drug dealers and gangbangers who weren't following La Eme's rules. Navarro asserted that Ojeda was still running the O.C. branch of La Eme, as he was choosing who would lead the local crews and he provided directions, although he was behind bars.
Ojeda's criminal defense lawyer, Craig Wilke, alleged that gangbangers like Navarro were using Ojeda's name while working on their own criminal schemes – and as protection against reprisal. Wilke even asked the jury to discount testimony from Navarro and other gangbangers, due to their criminal records and drug use.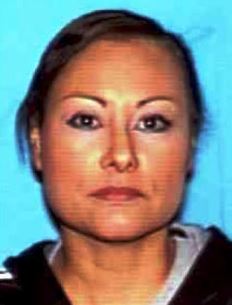 Rodriguez's defense lawyer, Karren Kenney, argued that Rodriguez was just Ojeda's girlfriend and that she was not a conduit for Ojeda's orders to the members of the Mexican Mafia.
Both of the defense lawyers blamed all the violence in the jails and in the streets on Moreno. But Moreno got the last laugh. Not only did he testify for the prosecution, he also revealed his role in a number of additional, unrelated schemes, including the alleged orchestration of a racially motivated riot at a prison in Chino, as well as an attempt to have a prison guard followed to his home and killed for alleged disrespect of members of La Eme, and a plot to kidnap two people with the idea of turning them over to narcotraficantes tied to Mexican drug cartels.
Both of the defendants are going to return to court on May 9 for final sentencing.