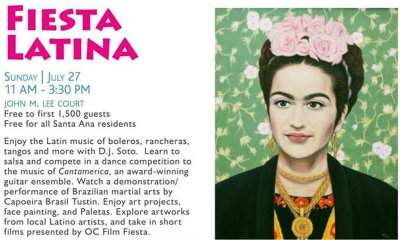 Bowers Museum's Fiesta Latina Celebrates Art, Culture, Community on July 27
Admission Free to First 1,500 Visitors and to All Santa Ana Residents
Santa Ana, Calif. — The Bowers Museum announces a new community program, Fiesta Latina, as part of the New California Treasures project supported by the James Irvine Foundation.
For one day only, Sunday, July 27, 2014, the Bowers will offer free admission to the first 1,500 visitors, plus free admission to all Santa Ana residents, to see its wonderful exhibitions and take advantage of this fun-filled day. The Fiesta Latina takes place from 11am-3:30pm at the Bowers Museum.
Visitors will enjoy the Latin music of boleros, rancheras, tangos and more with DJ Soto. Guests can learn how to dance salsa and compete in a dance competition to the live music of Cantamerica, an award-winning guitar ensemble, as they perform in the John M. Lee Court from 2 pm to 3:30 pm. A demonstration/performance of Brazilian martial arts will take place by Capoeira Brasil Tustin at 1:30 pm.
Families can enjoy art projects, face painting and Paletas (frozen fruit bars) in the historic Key Courtyard from 11 am until 3:30 pm. The Norma Kershaw Auditorium will feature film screenings presented by OC Film Fiesta from 11 am until 12:30 pm.
Fiesta Latina will also celebrate local Latino artists with a display of artworks by Matt Southgate, Marina Aguilera, Victor Lopez, Jenny Ygual, Abe Moya and Yenny Bernal, among others.
BOWERS MUSEUM is located in the heart of Southern California at 2002 North Main Street in Santa Ana, just one minute from the 5 freeway at the Main St. South exit, and just a few minutes from the 22, 55 and 57 freeways. Regular operating hours: Tuesday through Sunday, 10 AM to 4 PM. For more information, please visit www.bowers.org.
Address: 2002 North Main Street, Santa Ana, CA 92706
Tickets and Information | 714.567.3600
Group Tours: grouptours@bowers.org | 714.567.3680
Membership: membership@bowers.org | 714.567.3639
For more information, visit our website at www.bowers.org