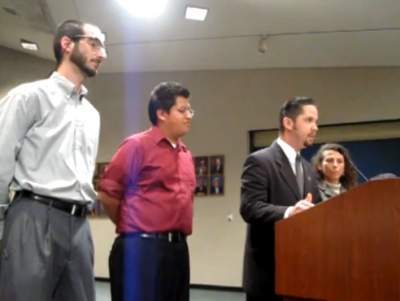 Santa Ana City Councilman David Benavides, who failed badly in his attempt to beat Mayor Miguel Pulido last year, is trying to appoint planning consultant Phil Bacerra to the Santa Ana Planning Commission, according to the City Council's agenda for tonight's meeting.
Bacerra is no doubt qualified for this position but his presence on the Planning Commission would be a major conflict of interest.  His company, Jacaranda Enterprises, was retained by Downtown Inc., the non profit that oversaw the spending of the PBID tax proceeds in Downtown Santa Ana, according to his contract, to:
Propose a Downtown alcohol and entertainment policy for Downtown Inc. to submit to the City for consideration
Analyze and recommend actions regarding City-proposed policies that would impact alcohol and entertainment in Downtown Santa Ana
And do any other tasks that would lead to favorable policies for alcohol and entertainment uses in Downtown Santa ana.
City Commissioners are supposed to represent not only the Council Members who appoint them but also the people of our city.  It is pretty obvious that Bacerra's main interest is in advocating for alcohol and entertainment policies that will only benefit a select few. 
How do we know for sure that Bacerra won't use this appointment to get more work or to shake down those who are trying to get planning approval for their projects? 
The City Council should reject Benavides' attempt to appoint a planning consultant with obvious conflicts of interest to our Planning Commission.