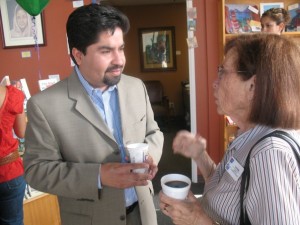 Assemblyman Jose Solorio is working to bring more funding to local schools
Assemblyman Jose Solorio, who represents the 69th Assembly District, has been appointed to an important Committee on Education.  Click here to read the committee's hearing schedule.
What the appointment means is that Solorio will be in a good position to bring back more funding to local schools in his district!   Solorio's district includes the Cities of Santa Ana and Anaheim, so he will be helping the Santa Ana Unified School District, the Anaheim City School District and the Anaheim Union High School District.
Here is Solorio's press release in its entirety:
Solorio Named to Extraordinary Session Committee on Education
Goal: Give California Competitive Edge in President's "Race to the Top" Program
SACRAMENTO – Assemblyman Jose Solorio (D-Anaheim) accepted an appointment by Assembly Speaker Karen Bass to the Fifth Extraordinary Session Committee on Education, where he will play a pivotal role in crafting legislation that would help align California law with federal, Race to the Top Fund eligibility requirements. The fund is a $4.35 billion competitive-grant initiative for education reform included in President Obama's American, Recovery and Reinvestment Act of 2009.
Yesterday, Speaker Karen Bass (D-Los Angeles) announced the formation of the committee and its members. The legislators will hold hearings throughout the state to gather testimony on how to make California eligible and competitive for Race to the Top grant funds (Hearing dates and agendas are attached). The Fifth Extraordinary Session was called by Governor Schwarzenegger last month to address this issue.
"This is the largest pot of discretionary funding for K-12 education reform in the history of the United States," said Assemblyman Solorio after the announcement. "California has a rich history of educational excellence. We have an important opportunity to access federal education dollars and impact the lives of students for generations to come."
Assemblyman Solorio has made education a legislative priority. He serves on the Assembly Education Committee, and this year authored AB 1130, a bill that could help with the state's Race to the Top Fund compliance. The legislation asks California's Superintendent of Schools to consider adopting a growth model that will measure a pupil's achievement over time.
President Obama's education reform initiative challenges the states to develop innovative reform strategies that focus on high academic standards, the development of highly skilled teachers and leaders, closing the achievement gap, turning around struggling schools, and the use of data to determine evidence-based instructional programs that work. For more information on the Race to the Top initiative, click here.
State Assemblyman Jose Solorio is the chair of the Assembly Insurance Committee and also serves on the Assembly Education, Transportation, and Appropriations Committees. He represents the Sixty-Ninth Assembly District, which includes the cities of Anaheim, Garden Grove, and Santa Ana. For more information about Assemblyman Solorio, click here.
Capitol Office: State Capitol, P.O. Box 942849 • Sacramento, CA 94249-0069
Phone: (916) 319-2069 • Fax:(916) 319-2169
District Office: 2400 East Katella Avenue, Suite 640 • Anaheim, CA 92806
Phone: (714) 939-8469 • Fax:(714) 939-8986
E-Mail: Assemblymember.Solorio@assembly.ca.gov
Web Site: www.assembly.ca.gov/solorio