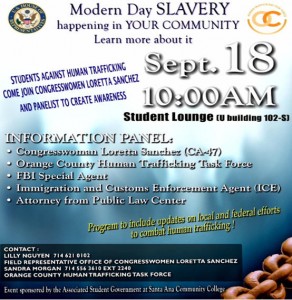 Congresswoman Loretta Sanchez, who represents Santa Ana and surrounding cities in the 47th Congressional District, will be speaking at Santa Ana College tomorrow morning, Sep. 18, at 10 am, about the modern day slavery known as Human Trafficking."
Students will hear from the Orange County Human Trafficking Task Force; an FBI Special Agent; Immigration and Customs Enforcement (ICE); and an attorney from the Santa Ana Public Law Center.
If you are interested in attending or want more information call Lilly Nguyen, who is a Field Reprsentative for Congresswoman Sanchez, at 714-556-3610, ext. 240.
This special event is sponsored by the Associated Student Government at Santa Ana College.