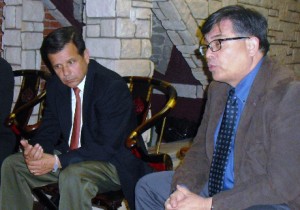 I met with Santa Ana Mayor Miguel Pulido today at noon, and we had a chance to discuss the Artists Village, amongst other topics.  In the course of our conversation Mayor Pulido shared his schedule with me and gave me permission to discuss it here.  Remember that Mayor Pulido is a part-time Mayor.  Here is how he spent this morning:
8:30 am: Met with City Staff to discuss the Go Local Project
9 am: Met with Roy Alvarado and George Collins to discuss the Harbor Blvd. Corridor
9:20 am: Met with Shirley Grindle to discuss the Bike Trail near the Discovery Science Center and Santiago Park
10 am: Met with Dennis Lluy, David Leon, Ryan Chase, Gil Marrero, Irv Chase and Councilwoman Michele Martinez to discuss the direction of nightlife in the Downtown, and the dance ordinance
10:20 am: Met with Gary Kutscher, Angie Rowe, and Scott Baugh to discuss the O.C. Marathon
10:40 am: Met with Ray Estrella and Robert Maniaci to discuss a Veteran housing project
11 am: Met with Jody Johansen and Chris Roelle to meet and greet the new FBA President
11:20 am: Met with Armando de la Libertad to be introduced to a Santa Ana resident who is a CAD designer who designs skateboard parks
11:40 am: Met with Carlos Benitez to discuss projects related to the Federacion de Clubs Guerrenses
and 12:20 pm – Spoke on the phone with Charmayne Bacon and Ken Brown re Climate Communities and USCM
Many city staffers were involved in these meetings, including Jill Arthur, SAPD Chief Paul Walters, Gerardo Mouet, Mark Lawrence, Jay Trevino and Lt. Mike McCoy.

What a day!  And Pulido still has an afternoon full of additional appointments to work through.
We are fortunate to have a Mayor who can spend so much time on city business.  Mayor Pulido made it clear that he is available to talk to anyone who wants to meet with him with regard to city business.  If you want to meet with him contact Becky Magallon, at City Hall, at BMagallon@santa-ana.org.  She is an Executive Assistant to City Manager Dave Ream.