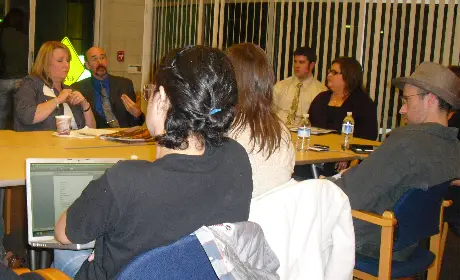 There was a very good turnout at this evening's meeting of the Santa Ana Arts Forum.  There were representatives there from the California Arts Alliance; El Sol (an arts charter school); the SAUSD; the Kidseum; the Bowers Museum; Cal State Fullerton; the O.C. Children's Therapeutic Arts Center; the Nomads, a new Theater group; the Breath of Fire Latina Theater ensemble; AVASA, representing the Santora Building/Artists Village; and the Wooden Floor, which used to be called the St. Joseph's Ballet Center.  The meeting was held at the Wooden Floor.
The meeting was moderated by Cindy Nelson, who works at the Santa Ana City Manager's office; and Gaby Lomeli, who is the City of Santa Ana's arts liaison.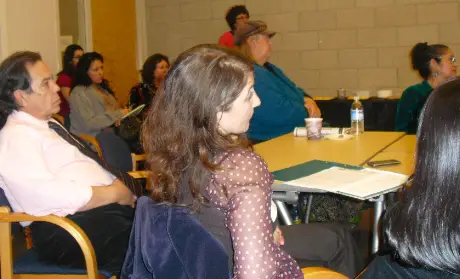 The only media member there, in addition to myself, was Adam Elmahrek, of the Voice of OC.
CSUF Professor Mike McGee spoke about how much his arts students are in demand in industry, particularly in animation, and he also said that curators are in big demand.  One of his former students, who curates at the Bowers, was there as well.  (If you have not been to the Bowers to check out their new Ben Franklin exhibit you are really missing out!)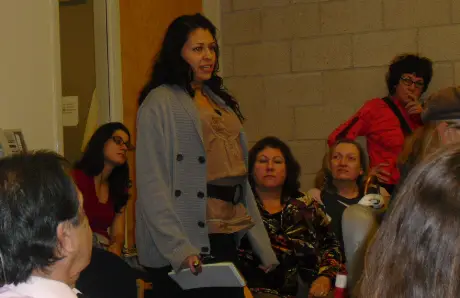 In general the meeting was an opportunity to network.  But some of the artists who were there also had a lot to say about current issues affecting them.  Many independent artists, actors and speakers were also there.  Some spoke about the need for funding and jobs.  Others spoke about the importance of helping to keep Santa Ana's kids out of trouble.
It was great to hear about the success the folks at the Wooden Floor are having.  Many of their students are going on to Ive League colleges – some are going to be doctors, others are opting to be architects or engineers.  Only one attends a private school.  The rest are public school students!
Nelson fielded a few tough questions, including a query about whether or not developer Mike Harrah has to provide a certain number of spaces for galleries at the Santora Building.  No, he doesn't, said Nelson, who verified that he is a private owner and the city has no such arrangement with him.
One of the AVASA members asked Nelson if the City of Santa Ana could post information making it easier to figure out the parking situation in the Artists Village.  Nelson agreed to look into that.  I think that is a good idea!
I am not sure what is in store for this Forum in the future, but I did learn a few things tonight and it was nice to meet many of our local arts leaders.  Santa Ana has a lot of talented people working hard to advance the arts in our city!