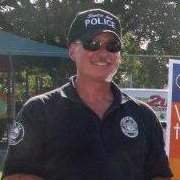 After 34 years with the Santa Ana Police Department, Mike McCoy will be retiring at the end of December.  A celebration of all of his hard work in making Santa Ana a better city is set for Thursday, December 18, 2014, from 6 to 8 pm, at the C4 Deli, located at 200 North Broadway, in Downtown Santa Ana.
Here is the farewell note that McCoy posted on his Facebook Page:
After 34 years with the Santa Ana Police Department I will be retiring from the Department at the end of this month on December 30th. I wanted to take a moment to express my gratitude and to let you know what an honor it has been to serve the residents and business owners of the City of Santa Ana over the last several decades. I will miss the many friends that I have made and the cooperative spirit that exists within the City. My career with the Santa Ana Police Department has been a truly rewarding experience primarily because of the individuals within the City that I have had the pleasure to interact with. It has truly been a pleasure serving you over the years.

Sincerely

Mike

PCSS Mike McCoy #1213
Santa Ana Police Department
Crime Prevention Unit
Cell 714-493-4972
714-647-5840
A few years ago a friend of mine decided to get married at the Yost Theater.  That turned out to be a huge mistake.  The Yost management was very disorganized and they did not warn my friend that there was some sort of downtown event set for the same day as the wedding.  So the day of the wedding my friend called me in a panic – there was no parking for her guests.  I called Mike and sure enough he found us some parking at a nearby grocery store's rear parking lot.  That is just one of many tales about how Mike always went out of his way to help folks.  We are sorry to see him go but wish him a great retirement!