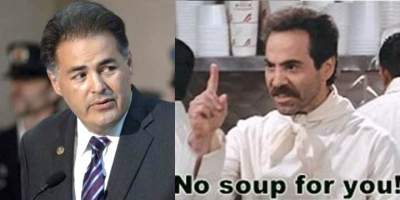 Santa Ana City Manager David Cavazos on Tuesday night said he will not be receiving a bonus after the City Council met in closed session to discuss his performance evaluation, according to the O.C. Register.
Cavazos was poised to receive the bonus, which calculated on his $315,000 salary would have been an extra $15,750. But several residents – including a group of teenage students — showed up for public comments before the council's closed session discussion on the issue and complained that Cavazos already receives an extraordinary amount of money from taxpayers, according to the Voice of OC.
Santa Ana City Manager David Cavazos is allegedly making $315,000 in annual salary, according to CBS News. Cavazos is also paid a massive $234,536.04 annual pension he engineered before he exited his previous job, in Phoenix.  His Santa Ana pay is padded by an additional estimated $243,000 in perks and benefits including an electric car , moving expenses and a housing allowance.  In all Cavazos is bringing home $800,000 a year, as we reported previously.
Kudos to the City Council, particularly Councilwoman Michele Martinez, who told the Voice of OC that "Cavazos managed to turn the normal employer-employee dynamic on its head, defining for himself how much the bonus should be and what he did to earn it."
Martinez also told the O.C. Register "that Cavazos is taking the credit for the choices the council made prior to his arrival. Also, she said, his positive budget projections are partly due to cutting future raises for rank-and-file employees."