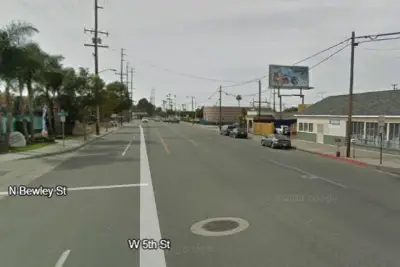 Tragedy struck tonight, at approximately 6:22 pm, when a 3-year old was struck by a car, in Santa Ana.  He died later in a local hospital.
According to the Santa Ana Police Department (SAPD) a family was crossing 5th Street at Bewely and was reportedly holding the hand of their 3 year-old. A passing vehicle struck the 3 year-old and fled the scene.
Witnesses were able to provide a vehicle description and license plate. Santa Ana police officers located the suspect vehicle and suspect at 1300 N. Clinton. The suspect was taken into custody and it appears DUI is possibly a factor.
The child was transported to UCI and has since succumbed to his injuries. Traffic has responded and is handling the investigation. Sgt. Smith is the scene supervisor.
UPDATE: "Authorities identified on Thursday a 3-year-old boy struck and killed by a driver who authorities believe was intoxicated and unlicensed as Darwin Almeida," according to the O.C. Register.
"The information led police to arrest Angel Alberto Cruz Perez for investigation of gross vehicular manslaughter while intoxicated and other possible charges," according to the San Francisco Chronicle.