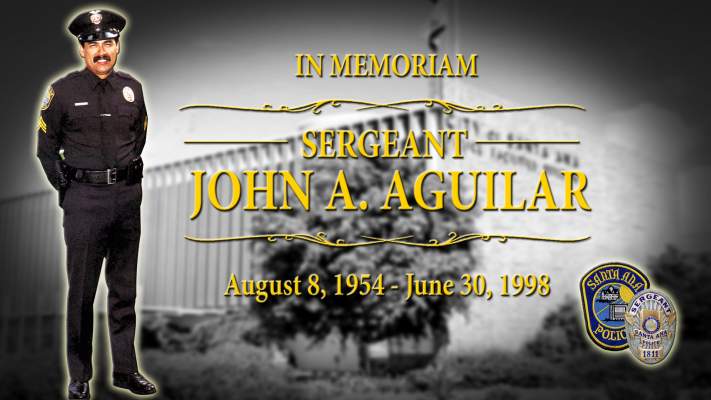 Santa Ana Police Department Advisory:
Police Department will be dedicating a plaque and portrait to Sergeant John Aguilar who died in the line of duty 1998
Details: Sergeant John Alfred Aguilar grew up in Santa Ana, so it was only natural that he returned to his community as part of the Santa Ana Police Department. He dedicated himself to ridding his neighborhood of drugs and helping out the people in his community whenever he could. John began his law enforcement career in 1978 with the Orange Police Department, often working undercover purchasing narcotics. In 1984, he joined the Department of Justice, Bureau of Narcotics Enforcement. Assigned to the Clandestine Lab Unit, John participated in raids and seizures of many labs as well as numerous undercover operations.
In 1987, John began working at Santa Ana PD and was soon assigned to the Weed & Seed unit focusing on narcotic distribution. He was promoted to Corporal shortly after. In the early 1990s, John served as the face of the department on recruitment billboards placed near the very neighborhood where he grew up. In fact, the first billboard was just three blocks from his childhood home. When the Santa Ana PD was named one of the nation's best dressed law enforcement departments, John was selected to model one of the uniforms. He was truly proud to wear his police uniform and to be part of the Santa Ana Police Department.
In 1993, he joined the Special Narcotics Unit, Street Team. After being promoted, John served as the Sergeant of the Orange County Regional Narcotics Suppression Program and then Sergeant of the Santa Ana Police Department Special Investigation Division / Major Narcotics Unit. Through the course of his work, he participated in the seizure of multiple clandestine labs, mostly methamphetamine labs, and worked undercover drug buys. While with Santa Ana PD, John seized over 25 clandestine methamphetamine labs.
Due to his exemplary police record and his personality—often described as a "cop's cop"—John was well liked by both the public and his fellow officers. While he loved his job, he was truly devoted to his family. In December of 1997, John experienced unfamiliar back pain and was soon diagnosed with Leukemia. Although he received bone marrow transplants from his brother, he lost his battle just six months after beginning treatment. It was later determined that repeated exposure to Benzene, a carcinogenic chemical commonly used to produce methamphetamines, through the course of his law enforcement career led to the Leukemia. Sergeant Aguilar is survived by his wife, four daughters, and seven grandchildren
On Jan. 11, 2012 the California memorial foundation's board voted to accept Aguilar's death as having occurred in the line of duty. On May 7, 2012 Aguilar was honored at the California Peace Officers Memorial, joining more than 1,500 other officers who have fallen in the line of duty since California statehood.
When: Monday July 1st at 1100
Where: Santa Ana Police Department
Contact: Santa Ana Police Department PIO Anthony Bertagna Cell (714) 709-2043
Interview Opportunities Available with Family Members.
###