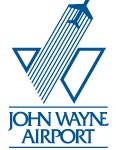 FOR IMMEDIATE RELEASE: June 27, 2013
Contact: Jenny Wedge, (949) 252-5182, jwedge@ocair.com
JOHN WAYNE AIRPORT OFFERS IMPORTANT TIPS FOR FOURTH OF JULY HOLIDAY TRAVEL

SANTA ANA, Calif. – John Wayne Airport (JWA) anticipates a busier-than-normal travel period from Friday, June 28 through Sunday, July 7 during the Fourth of July holiday. Passengers are reminded that fireworks are prohibited and should be left at home.
Visitors to JWA during this holiday period should be aware of ongoing construction activities around the Riley Terminal, exercise caution when navigating Airport roadways and follow posted speed limits.
Travel Tips for Passengers and Visitors:
Arrive 90 minutes to two-hours before the flight departure time to find parking, check luggage and go through the security checkpoint. Passengers who are members of TSA Pre✓™ can expedite the screening process in Terminal A.
Drivers picking up passengers at the Airport are encouraged to utilize 2-hour parking spaces, located on the lower level of Parking Structures A1, B2 and C, as some portions of the white curb are closed due to construction.
Parking Options at JWA:
Curbside Valet Parking for $30 per day, located on the departure level between Terminals A and B, or in front of Terminal C.
Parking Structures A1, A2, B2 and C are located adjacent to and directly across from the Riley Terminal at a rate of $20 per day and $2 per hour with the first 15 minutes being free for those dropping off and picking up passengers.
Off-site Main Street Parking Lot located at 1512 Main St., Irvine for $14 per day with free shuttle service to/from the Terminal every 15 minutes.
For parking availability call 949.252.5200 or for directions to JWA, visit: http://www.ocair.com/parking/parking.htm.
For the latest travel tips and security requirements, log on to www.ocair.com for more information.
# # #
John Wayne Airport (SNA) is owned by the County of Orange and is operated as a self-supporting enterprise that receives no general fund tax revenue. The Airport serves approximately nine million passengers annually and reaches more than 20 nonstop destinations in the United States, Mexico and Canada. More information can be found at www.ocair.com or at facebook.com/johnwayneairport or on twitter.com/johnwayneair.
You can access JWA news releases at www.ocair.com/newsroom/news