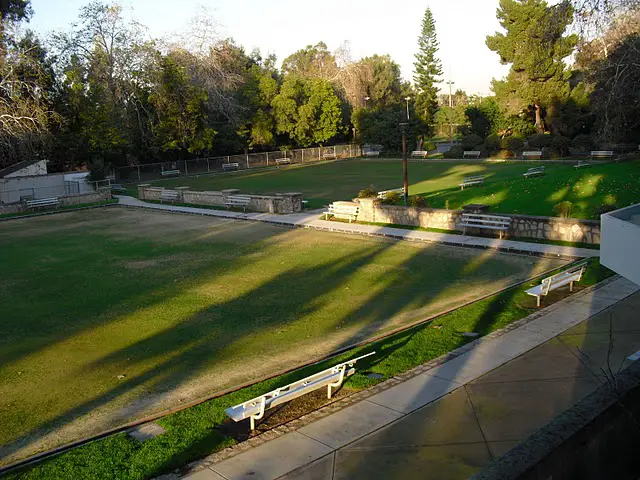 Wouldn't the Santa Ana Lawn Bowling Center make a nice Dog Park?
Did you know that the City of Santa Ana has no dog parks?  I called today and spoke with a lady at the City of Santa Ana's dog license department.  She was very helpful! 
She said that we have 11,835 dogs currently licensed in our city.  And she figures there might be even more dogs that are currently unlicensed.  While I have questioned the cost of our licenses in the past, they do accomplish a couple of positive goals, in that they help to assure that dogs are properly vaccinated – and that they are fixed.
The lady at the dog license department also told me that the only dog park in the area is in Costa Mesa – and they don't like it when out of town residents bring their dogs to their park, as it is hard to corroborate that the dogs are fixed and vaccinated.
I have an idea for a dog park, in Santa Ana, at NO COST to our city!  The Lawn Bowling center, at Santiago Park, is only used four times a week.  Gerardo Mouet, the Santa Ana Parks and Recreation Director, verified this today in an email I received.  "The Lawn Bowlers practice on the bowling area on Tuesdays and Thursdays and play on the weekends."
My proposal would be to get rid of the lawn bowling altogether as it is an anachronistic sport that very few people in Santa Ana are involved in.  The people who come here to do lawn bowling are, for the most part, from out of town!
This area, as you can see in the pictures embedded in this post, is fenced in and it has benches to relax on.  The lawn is also well maintained.  It would be a perfect dog park!  And the City would hardly have to spend any additional money to do this.
As an alternative, if our City Council for some reason wants to keep the lawn bowling activities, we can use the area as a dog park when the lawn bowling is not going on.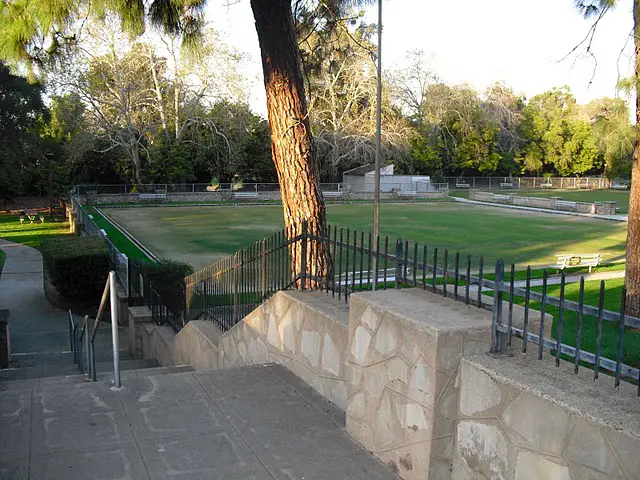 If we had a dog park in our city, we could advertise the services our city provides with regard to dog licenses, vaccinations, etc., right there at the dog park!
What do you think? 
Click here to contact Santa Ana Parks and Recreation Director Gerardo Mouet.  Click here to contact the Santa Ana City Council.  Click here to contact Councilman Carlos Bustamante, who represents the Santiago Park area.  You can contact City Manager Dave Ream's assistant, Mark Lawrence, at MLawrence@santa-ana.org. 
Click here for a list of dog parks in Orange County.