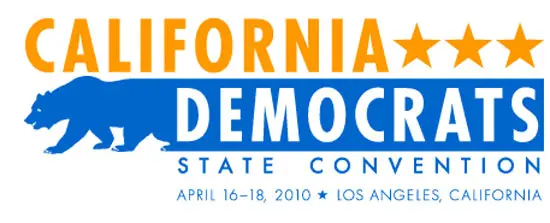 The Democratic Party of Orange County (DPOC), which is based in Santa Ana, is conducting a Pre-Endorsement Caucus at the IBEW Hall, in Orange, on March 20.  Below are the details:
The 2010 California Democratic Party State Convention will be held in Los Angeles on April 16-17-18. Information about the convention is available at cadem.org.  The state party will open a special convention website in mid-February.
Prior to the convention, each of the state party's 21 regions will hold a pre-endorsement conference to allow local Democrats to recommend candidates for endorsement. These recommendations will then be forwarded to the convention where the actual endorsement takes place.
Persons eligible to vote at the pre-endorsement conference include local members of the state central committee, regular members of a county central committee, and representatives of chartered Democratic clubs and other organizations.
Clubs and other chartered organizations will receive one representative for every twenty members resident in a specific assembly district.
Here are the details for the Region 18 Pre-Endorsement Caucus:
DATE: Saturday, March 20
TIME: 9:30 AM
LOCATION:IBEW Hall
309 N. Rampart, Suite M
City of Orange
There will be a Region 18 meeting immediately following the Pre-Endorsement Caucus.
This will be a brainstorm session on "How Orange County Democrats can capitalize on the Anti-Incumbent sentiment" along with business relevant to the April State Convention.
The meeting will conclude before noon and all those attending the Pre-Endorsement Caucus are invited to stay.
Region 18 consists of Assembly Districts 67, 68, 69, 70, 71.
For additional information or questions, please call Regional Director Steve Young or Marion Pack at 949-640-4400.
Sincerely,
Frank Barbaro, ChairDemocratic Party of Orange County
email: info@ocdemocrats.org
phone: (714) 835-5158
web: http://www.ocdemocrats.org/
200 N. Main St., Mezzanine
Santa Ana, CA 92701