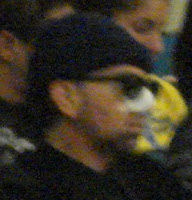 We reported back on March 21, that Steve Rocco, the perennial candidate who appears to be a few sandwiches short of a picnic, had filed paperwork with the Santa Ana City Clerk to begin a petition to recall Santa Ana Mayor Miguel Pulido.
Now the Orange County Register has reported that Rocco's paperwork has been approved, so he can start collecting signatures in order to try to put his Pulido recall on the ballot.
The Register reported that "Rocco's petition for recall is more a jumble of words and names than it is document spelling out reasons to oust the mayor, including words and phrases such as "intubation" and "criminal partnership" and "Little Saigon Riots" – as well as "Ketchup Case." Rocco was accused four years ago of stealing a half-full bottle of ketchup from the Chapman University cafeteria. Among the names in the petition are those of District Attorney Anthony Rackauckas and county Supervisor John Moorlach."
"Rocco served on the Orange Unified School District board from 2004 to 2008 and ran unsuccessfully for Santa Ana mayor in 2000, and for the Ward 3 council seat in 2008 and 2012. Pulido was elected in November to a 10th two-year term," according to the Register.
Rocco was elected in Orange when Republicans voted for him rather than vote for a Latino Democrat who was opposing him for the OUSD School Board.
The reality is that our City Council has taken virtually all power away from Pulido.  All he does now is run the Council meetings and serve on the AQMD and OCTA Boards of Directors.  The Council even fired the previous City Manager, Paul Walters, because of concerns that he was allied with Pulido.  And they have launched an investigation of his longtime assistant, Deputy City Manager Jill Arthur.
So why recall Pulido?  Clearly Rocco is just flailing away as usual, driven by craziness none of us can even begin to understand.  Even the Council members, who are at odds with Pulido, will distance themselves from this ridiculous recall campaign.  So Pulido has nothing to worry about.  This is just the latest humiliation in a series of setbacks since the current Council was elected.