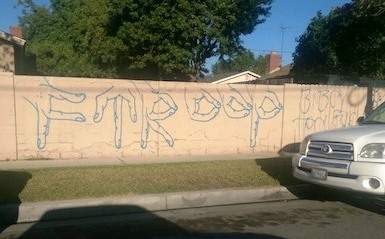 A man was beaten and stabbed on Sunday night after confronting a group of taggers who were defacing a vacant house near Lincoln Avenue and Stinson Street, in Anaheim, according to the L.A. Times.
He was stabbed once in the lower back near South Stinson Street before another man "saw the incident, retrieved a handgun and shot four to five rounds into the air to stop the assault," police Lt. Eric Trapp said, according to the O.C. Register.
In a previous incident, David Douglas, 51, one of two men shot on July 19 died after confronting a group of men about 10 p.m. near Poona Drive and Lullaby Lane, in an unincorporated area west of Anaheim, according to the Orange County Sheriff's Department, died at UC Irvine Medical Center about six hours after the confrontation, according to KTLA.
With all that in mind it was awkward timing to say the least to see an article by Gustavo Arellano, the Editor of the OC Weekly, essentially praising the quality of F-Troop graffiti that popped up on a wall near the corner of Hawley and Ninth streets in Santa Ana over the weekend.
Graffiti is not art when it is applied on property that does not belong to the taggers.  It is an odious crime that makes communities look like sh*t.
Why are taggers in Orange County suddenly becoming so brazen? Arellano thinks that the SAPD's cops are too busy busting pot shops and eating their marijuana edibles to focus on stopping graffiti, and perhaps he is right.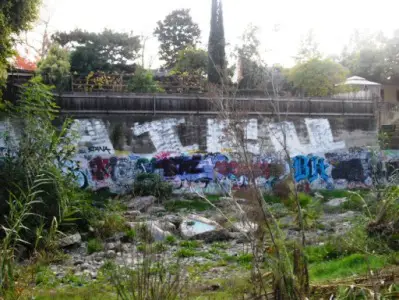 We believe however that what is happening is of concern to all of us.
Do you remember when more than 800 federal and local law enforcement officers cracked down on suspected gang members and affiliates of the Mexican Mafia in Orange County, leading to dozens of arrests, back in September of 2013?
Those arrests removed many of the top gang leaders in Orange County from the streets.  The result was predictable – younger cholos have been battling it out ever since to see who the new top dogs will be.  And the taggers have been drawn into the fray.
These taggers we are seeing now are hardcore gang bangers.  And messing with them is a terrible idea.  Do so at your own risk!
By all means please do report tagging to the SAPD.  But don't put yourself in harm's way.  These tagger have become vicious thugs and as we have seen recently in Anaheim they won't hesitate to kill you.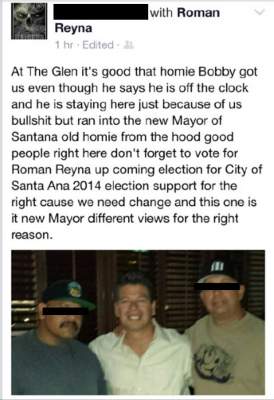 And be careful who you vote for.  Santa Ana City Council Members Michele Martinez and Roman Reyna both come from gang backgrounds.  Martinez has admitted to having sold drugs in Santa Ana when she was a teenager and Reyna was once shot at a public park.  He was also caught posing with members of the Mexican Mafia last year when he ran for Mayor of Santa Ana.  Reyna has yet to explain what he was thinking when this picture was posted on social media.
Gangs remain the biggest problem in Santa Ana, hands down.  And graffiti is not and never will be considered art.  It is a public nuisance and it is despicable.