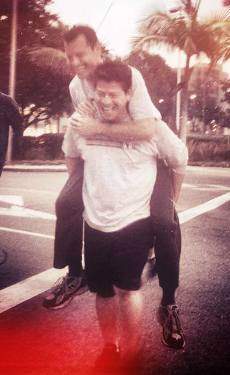 Marc Payan wakes up just about every day well before the sun comes up, and drives to Downtown Santa Ana from his home in Irvine.  He heads to a parking structure where he leads Santa Ana residents in free workouts that start at 5 am.
It is a nice story, that the L.A. Times touted in a recent article, where they opined that "in one of the nation's densest cities, there are no beaches and hardly any parks. And, for many, paying $100 or more per month for a fitness group just isn't an option"

That is of course complete B.S.  Santa Ana has 35 parks, four joint use sites shared with the SAUSD, and 19 recreation facilities, according to the Santa Ana Parks and Recreation Agency  – and we are not that far from the beach.  And there is in fact a downside to the workouts, dubbed Payan X.  They have been waking up residents of Downtown Santa Ana for quite a long time.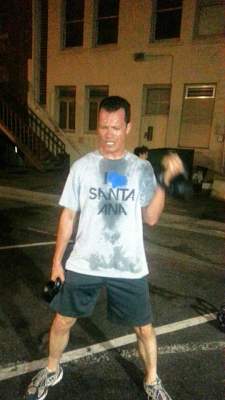 Recently one resident, Yvonne Flores, who has been sick at home, emailed the Santa Ana Council Members to complain about the noisy workouts, which have not been granted a permit by the City of Santa Ana.
Flores wrote on her Facebook page, "I officially dislike Marc and his "we come in peace to bring good families to Santa Ana" non-sense.  What the heck am I, chop liver?  Not a good family?  Good families are already here in SA and PayanX is disturbing their well being by disturbing their sleep.  I say the families of Santa Ana deserve to sleep at 5am without having people from Irvine use SA city facilities without a permit and making all kinds of noise at 5am with a mob of people."
Flores finally heard back from Council Woman Michele Martinez, whose ward includes Downtown Santa Ana, today.  Apparently the workouts will be moving to Eddie West Field in January.
Why did it take so long to move these workouts?  Well there are two Council Members, David Benavides and Roman Reyna, who partake in the workouts.  And I am pretty sure that Martinez has done so as well.  Her political consultant, Alex Flores, is a member of Payan X too.  (Click here to look for pictures of these folks at the Payan X workouts).  Did these Council Members run interference for Payan, at City Hall?  If they did it is par for the course for these Council Members, who recently found themselves in hot water after a major contributor to their campaigns was outed in a lawsuit by a former partner.  It turns out the contributions have been less than above board.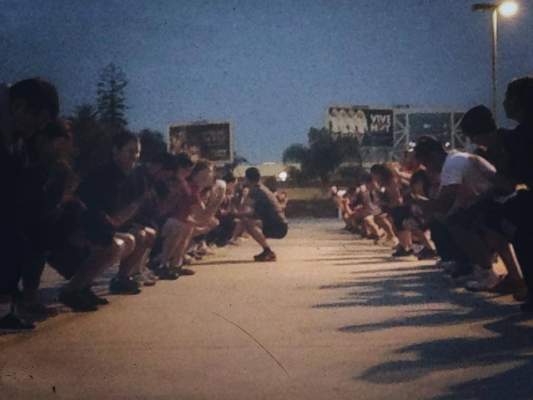 Why didn't Payan keep his workouts in Irvine, where he lives?  The city leaders in that city would never allow such shenanigans on public property – certainly not if residents were inconvenienced.
Benavides and Martinez are up for re-election next year.  Reyna is apparently going to challenge our longtime Mayor, Miguel Pulido.  Voters beware – these Council Members appear to march to their own rules – in this case they did so in apparent disregard for our local civic ordinances.