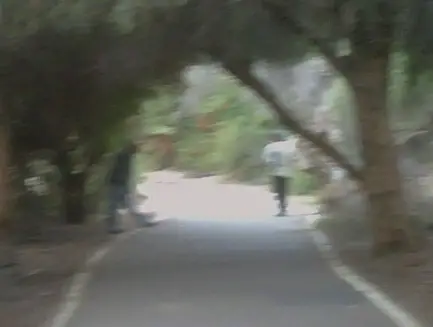 Men lurking at dusk at Santa Ana's Santiago Park
UPDATE: The City of Mission Viejo is also considering a new ordinance banning registered sex offenders from their parks, at their City Council meeting tonight.  Click here to read the press release, from the O.C. District Attorney's office.
The City of Los Alamitos enacted tonight a law to create child safety zones to protect children from registered sex offenders in city parks and playgrounds, according to an O.C. District Attorney press release.  The O.C. Board of Supervisors passed a similar measure in April of this year.  Click here to read about that.
When is the City of Santa Ana going to pass a similar motion?  It is a well known fact that perverts congregate nightly at Santa Ana's Santiago Park.  I met with SAPD Police Chief Paul Walters, after we broke the story that this was still a problem at Santiago Park.  He then conducted a sting operation and arrested 12 of these scumbags – and he later told me that most of them were married men who like to cheat on their wives with strange men at the park.
This sort of behavior must not be tolerated in Santa Ana!
Did you know that there are over two hundred registered sex offenders living here in Santa Ana?  Click here for the gory details.
A teenage girl was already groped and stabbed at one of our local parks last year, as we disclosed in a previous post.  Why not act now to save our kids?
Click here to email the Santa Ana City Council.  It is time to act now!  Why wait until a local child goes missing?