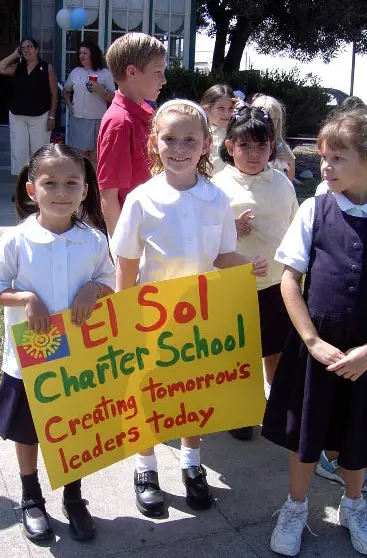 Press Release for October 18, 2011 – Press Conference at 10:30 a.m.
SOS-El Sol Wellness Center, El Sol Science and Arts Academy, 1010 Broadway, Santa Ana Partners Collaborate to Expand Opportunities for El Sol Science and Arts Academy Students and Families
Unique 40-year lease and two major grants totaling $2.3 Million Announced
Santa Ana, CA (October 18, 2011) – Monique Daviss, Executive Director of El Sol Science and Arts Academy, a public charter school in Santa Ana serving low-income students, announced today that the school has entered a 40-year lease with the Santa Ana Unified School District (SAUSD) to remain at its current location of 1010 Broadway in Santa Ana. The long-term lease will permit El Sol to replace portable modules with new well-designed, student-centered buildings and campus. Daviss also announced the receipt of two new grants totaling $2.3 million, which will permit El Sol, Share Our Selves (SOS), the UC Irvine Program in Nursing Science and Healthy Smiles for Kids of Orange County to all collaborate on a unique model of health and dental care for families and children.
Daviss indicated that, "Over the last five years, the El Sol Science and Arts Academy has recorded many wonderful nationally and locally acknowledged achievements. Despite the poverty or near poverty status of most of their families, El Sol students have increased their Academic Performance Index test scores from the mid 500s to near 900. Translated into simple language, the test scores of El Sol's kids are outstanding. El Sol is now among the top 2% of all schools in California. Its academic program has been recognized by respected national and statewide leaders. Additionally, beginning about two years ago, El Sol, in collaboration with SOS and many public, private sector, and nonprofit groups has provided needed on-site services to families and children to expand their health, wellness and quality of life," Daviss said.
"Today is a milestone in the history of El Sol," remarked SAUSD's newly appointed Superintendent Dr. Thelma Meléndez de Santa Ana. "Since I have arrived in Santa Ana, I have heard of the energy and commitment of El Sol's leaders, teachers, parents and students. And now I have the opportunity to witness firsthand the school's achievement, which is in part due to having worked closely with the District over the years. We look forward to continuing a positive relationship built on shared educational and community objectives and respect with El Sol. The new 40-year lease will help sustain El Sol's academic progress and its ability to serve its families and the community," Meléndez said.
Working with the District, El Sol will replace the present modules with a truly innovative new urban school building structure and a campus over time. The new complex will be designed to house over 900 students in grades pre-K through 8. Through development of community space, it also will build on its present capacity to provide needed services to families and children. In the next few weeks, El Sol, supported by business and community leaders, will initiate a capital campaign to raise funds for its new El Sol American Dream campus.
Simultaneous with the development of the lease, SOS, that administers the SOS-El Sol Wellness Center at El Sol, in partnership with the UCI Irvine Program in Nursing Science and Healthy Smiles respectively, received two grants totaling $2.3 million for innovative health and dental care programs.
In July of 2011, the UC Irvine Program in Nursing Science, in collaboration with SOS-El Sol Wellness Center, received a 1.5 million grant from the U.S. Health Resources and Service Administration (HRSA). The five-year grant will result in a unique collaborative and integrated medical program at the Wellness Center. It will be Orange County's first nurse managed clinic, permitting the expansion of family and child- based health care services by nurse practitioners and it will facilitate the education and training of future nurses.
The second grant, worth approximately $820,000, is a four-year grant from the Bureau of Health Professions within HRSA and is one of only 12 in the nation. With the funds, Healthy Smiles nonprofit dental clinic will initiate long overdue dental services for children at the SOS-El Sol Wellness Clinic. With additional resources, in the near future it will lead to the actual on-site placement and staffing of at least two needed dental chairs.
"Both grants will result in strategic collaboration among several important OC institutions including El Sol, SOS, Healthy Smiles and UCI Program in Nursing Science — serving low income families. From day one, the coordinated effort at El Sol will reflect 'best' practices. The 'team' will provide the most effective quality health and dental care, treatment and referral services possible. The entire effort will be continuously evaluated and subject to independent research. We want to show that collaboration works and improves care to low-income families and children. We also aspire to provide replicable successful experiences to help the nation meet the needs for quality health and dental care," said Karen McGlinn, Executive Director of SOS.
The new lease and the anticipated redevelopment of the site combined with the receipt of the two large grants testify to El Sol's deserved reputation for educational excellence and its commitment to integrating quality education with quality health and wellness initiatives. "We at SOS and our partners at UCI's Program in Nursing Science and Healthy Smiles are very excited about working with El Sol and the Santa Ana Unified School District. Ours is a unique wonderful partnership," concluded McGlinn.
For Further Information:Marshall Kaplan, President Pathways to Opportunity MKaplan@PathOpps.org, 949-689-5003
###