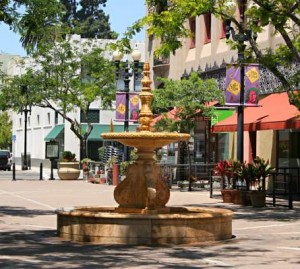 City of Santa Ana
Community Alert: What type of kiosks would you like to see in the Artists Village?
Located in the heart of the City's Central Business District, the Artists Village has become the epicenter for the art and cultural movement in Santa Ana. Over the past few years, new restaurants and retail establishments have strategically located in the Artists Village creating a unique and appealing ambiance in the area. Today, businesses are capitalizing on the City's efforts to revitalize a downtown rich with historic buildings and a trendy urban lifestyle.
The City will be purchasing 4 new Retail Kiosks for the Artists Village in July 2014. Retail kiosks are ideal for small local business owners that do not yet have the financial stability to lease and operate out of a larger retail location in the City. These kiosks can operate as a retail incubator while the business develops and matures. Kiosks can also be used as an information center for the City to post news and events, a map of the downtown, as well as allow outreach by various community and business groups.
By adding the retail kiosks, the City will begin the process of activating the promenade in the Artists Village. Lights, live music and increased outdoor dining will also be added in the near future. We are looking for your input on what types of businesses you would like to see go into the Artists Village kiosks.
Visit the City of Santa Ana's Popularise page to upload your ideas: http://popri.se/artistsvillage.
###