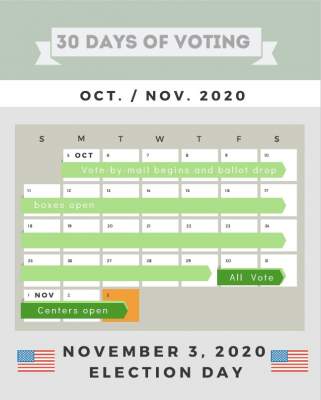 Drop boxes for vote-by-mail ballots will be opened on Monday, Oct. 5, 2020, for the Nov. 3 Presidential Election. Vote-by-mail ballots will be mailed to all Orange County registered voters on Oct. 5, according to the Orange County Registrar of Voters.
Find the locations of drop boxes and vote centers at www.ocvote.com/voting/voting-and-dropoff-locations-by-election.
The Final Close of Registration for new voters is Oct. 19, 2020. Conditional Voter Registration is from Oct. 20, 2020, through Nov. 3, 2020.
Orange County Vote Centers will be open between 8 a.m. and 8 p.m. from Oct. 30 through Nov. 2.
On Election Day, Nov. 3, Vote Centers will be open from 7 a.m. to 8 p.m.
For more information on Santa Ana elections, go to www.santa-ana.org/cc/city-elections.
Editor's Note: check out our Santa Ana Nov. 3, 2020 Election Voter Guide for info an all the local races.