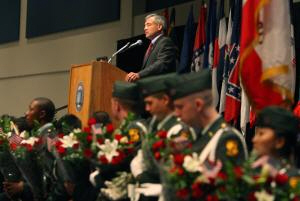 SANTA ANA TEENSPACE TO HOST CONGRESSWOMAN LORETTA SANCHEZ AND SUPERIOR COURT JUDGE FREDERICK P. AGUIRRE
SANTA ANA, CA (July 10, 2012) – On Saturday, July 14, 2012, at 3:00 p.m. the Santa Ana Public Library will host Congresswoman Loretta Sanchez and Judge Frederick P. Aguirre during its weekly Teen Civics program. The program will consist of both the Congresswoman and Judge speaking to our public on the topic of 'Making a Difference: Law, Politics, and Civil Engagement.' The program will commence promptly at 3pm with Judge Aguirre speaking to the public and hosting a short question and answer session. Judge Aguirre has served as Superior Court Judge for the County of Orange since 2002. Following Judge Aguirre's talk, Congresswoman Loretta Sanchez will speak to the youth and the public about being proactive in your community. She will speak from 3:30 – 4:00 p.m. Sanchez has been a Congresswoman for California's 47th Congressional District since 1997. After the presentations both speakers are invited to sit in for TeenSpace's weekly Teen Civics program where the participants will discuss issues related to the 1st Amendment and the Bill of Rights.
All are welcome to attend this special event held at the Santa Ana Public Library. It is a great opportunity to meet two appointed leaders of the community and listen to what they have to say about becoming engaged in your community. If you have any questions please contact Ms. Cheryl Eberly, Principle Librarian, at Santa Ana Public Library Central TeenSpace at (714) 647-5288.
3:00 – 3:30 p.m. Judge Frederick P. Aguirre
3:30 – 4:00 p.m. Congresswoman Loretta Sanchez
4:00 – 4:30 p.m. Teen Civics 1st Amendment and The Bill of Rights
THE SANTA ANA PUBLIC LIBRARY IS LOCATED AT:
26 CIVIC CENTER PLAZA (corner of Civic Center and Ross)
###