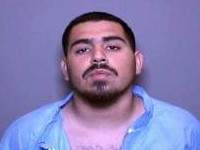 Case # 18CF2139
Date: September 11, 2018
SECOND DEFENDANT CHARGED WITH STABBING-MURDER OF MAN OUTSIDE OF NIGHTCLUB IN ORANGE
SANTA ANA, Calif. – A second defendant was charged yesterday with the stabbing-murder of a man outside of a nightclub in Orange.
Defendant: Vidal Almazan, 21, Santa Ana
Charged on Aug. 1, 2018, with the following felony counts:
Murder
Assault with force likely to produce great bodily injury
Sentencing Enhancement
Inflicting great bodily injury
Maximum Sentence: 25 years to life in state prison
Pre-trial hearing on Sept. 28, 2018, 8:30 a.m. at Department C-55, Central Justice Center, Santa Ana
Defendant: Antonio Jesus Brito, 19, Santa Ana
Charged on Sept. 10, 2018, with the above felony counts.
Maximum Sentence: 25 years to life in state prison
Continued arraignment on Sept. 21, 2018, 10:00 a.m. at Department CJ-1, Central Jail, Santa Ana
Circumstances of the Case
In the early morning hours of July 29, 2018, Almazan, Brito, and a third male suspect are accused of confronting 25-year-old Nicholas Glynn at the District nightclub in Orange, which resulted in the ejection of Glynn from the club.
Glynn's friend John Doe confronted the defendants and they engaged in an altercation until security guards removed them all from the establishment.
After they left the club, the defendants are accused of seeing Glynn and John Doe walking down the sidewalk and stopping their vehicle to attack the victims.
The unidentified male suspect is accused of stabbing Glynn twice as the defendants severely beat the victims.
Almazan, Brito, and the third attacker are accused of fleeing the scene in Almazan's vehicle.
Witnesses called 911 and John Doe and Glynn were transported to a local hospital where John Doe was given 44 stitches for injuries sustained to his face. Glynn was later pronounced dead as a result of the stab wounds.
Orange Police Department (OPD) investigated this case and arrested Almazan on July 30, 2018.
OPD identified Brito and arrested the defendant on Sept. 7, 2018.
Prosecutor: Senior Deputy District Attorney Scott Simmons, Homicide Unit.