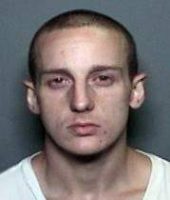 Justin Hayes, 27, of Orange was arrested by the Tustin Police today after he allegedly fled from officers in a stolen car and fought a police dog before he was Tased, according to the O.C. Register.
Police officers were dispatched near the 13200 block of Myford Road early this morning before 6 a.m. to investigate a suspicious car.
The police officers found a man sitting in a black Infinity Q50 that had been stolen in Huntington Beach. When police approached him, the suspect immediately drove off, hitting buildings, light poles and parked vehicles as he attempted to evade the police.
The suspect fled on foot after he crashed into a parked car and wrecked the stolen vehicle. He was pursued by Kingsley, a K9 police dog. The man then fought with the K9 officer before he was Tased and finally arrested.
The suspect was hospitalized and treated for injuries sustained during the fight. He was later identified as Hayes.
Turns out there were two warrants out for Hayes' arrest and he was on Post Community Release Supervision at the time he was taken into custody. Hayes was booked at the Orange County Jail on suspicion of vehicle theft, possession of stolen property, resisting arrest, felony vandalism and battery on a police service dog, in addition to his outstanding warrants.