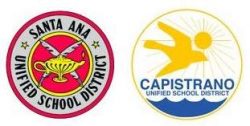 Joint Press Release
September 12, 2018
Santa Ana Unified School District and Capistrano Unified School District
Contact: Dr. Stefanie Phillips, SAUSD Superintendent (714) 558-5512
Contact: Kirsten M. Vital, CUSD Superintendent (949) 234-9308
SANTA ANA and SAN JUAN CAPISTRANO, CA. – The Santa Ana Unified School District and the Capistrano Unified School District believe that all children and families are valued and, as public entities, we support every child's success. No child should be bullied or treated with disrespect, and while we cannot control human behavior, we can control how we react and learn from these experiences. We believe diverse public schools provide our young people with an extraordinary education and experience that promotes unity, inclusion, equality and a respect for diversity.
As public school districts charged with the education of over 100,000 young people in Orange County, it is our duty to ensure that the events, as well as the aftermath, of the Santa Ana High School/Aliso Niguel High School football game last Friday, September 7, 2018 do not lead to separation and division in our community, but instead to dialogue, collaboration, and mutual understanding of the challenges our students experience on a daily basis.
In support of the young people and families we serve, our Boards of Trustees, Superintendents, and Principals are committed to ensuring that no student from either community feels threatened, disrespected, and/or discriminated against. We commit to working together to create an environment of acceptance and understanding for all students and families.
1. Our school districts are committed to the wellbeing of all students.
2. Both school districts are looking into the details of the football game.
3. Both school districts are working together to create safe learning environments and opportunities for both communities to heal through this impactful experience.
We will continue to support and address the concerns of students, families, and communities. Our priority is guiding and supporting students and staff to provide social and emotional support and creating learning opportunities to build resilience and cultural sensitivity in our students. This incident transcends Santa Ana and Aliso Niguel and resonates throughout our county. Other neighborhood districts have already contacted us in support of the collaboration that is occurring between the two districts and want to be a part of the collective conversation. As public serving institutions, it is our responsibility to guide tomorrow's leaders in understanding and embracing the value of diverse communities.
Santa Ana High School is one of nine high schools in Santa Ana. Founded in 1888, the Santa Ana Unified School District is the seventh largest school district in California, and the largest school district in Orange County. The district educates approximately 50,000 students at 57 schools throughout the city of Santa Ana. Approximately 41% of district students are English learners with Spanish being the most common language, and approximately 91% of the students population is eligible for free and reduced-price meals.
Aliso Niguel High School is one of six comprehensive high schools in the Capistrano Unified School District, which encompasses nearly 200 square miles over seven cities and unincorporated areas. The District provides education to nearly 50,000 students at 63 school sites.