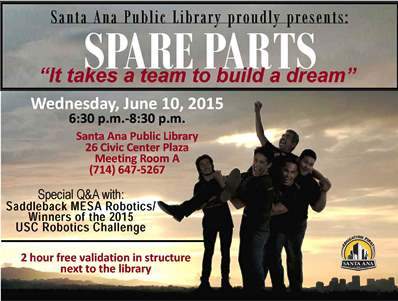 City of Santa Ana
Community Alert: JUNE 10th: FREE FILM SCREENING OF SPARE PARTS / PRESENTACIÓN GRATIS DE LA PELICULA: SPARE PARTS
When a group of four friends teams up with their school's newest teacher and enters a robotics competition, they don't realize that their intelligence and hard work will not only take them far, but help them form an everlasting bond as friends. This is the story of Spare Parts (2015), the critically acclaimed film based on the true story written by Joshua Davis about a group of friends from Phoenix, AZ who despite their disadvantages, battled MIT in a contest of resilience and came out victorious. The film stars an A-list cast including: George Lopez, Marisa Tomei, Jamie Lee Curtis, Isai Morales, Carlos Peñavega, and Alexa Peñavega.
Spare Parts highlights this team of young men who have limitless dreams in a community where many are deemed barely average or expected to underperform. This is an inspirational, feel-good story that celebrates the under-dog and leaves the audience captivated with poignant scenes that ring true to immigrant Latino communities.
Join the Santa Ana Public Library for a free screening of the film Spare Parts on Wednesday, June 10, 2015 from 6:30 p.m.-8:30 p.m. in Meeting Room A. Screening will begin promptly and the event will conclude with a Q&A with local robotics winners from Santa Ana's own Saddleback High School.
Light refreshments will be served.
Free metered parking is available after 6 p.m. on Ross Street, or 2-Hour validation is available for the parking lot next to the library.
The Santa Ana Public Library is located at 26 Civic Center Plaza, Santa Ana, CA 92701.
For more information, contact (714) 647-5264.
###