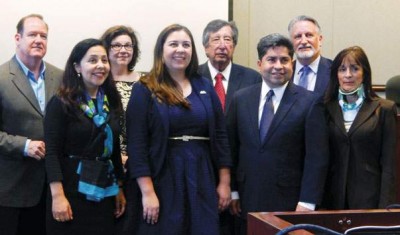 Enrique Perez, the Vice Chancellor at Santa Ana College inform​ed​ the ​Rancho Santiago Community College District's (RSCCD) ​Foundation Board on April 9, 2013 that the Rancho Santiago Community College District (RSCCD) could no longer afford to carry their Women's Business Center.
U.S. Rep. Loretta Sanchez sent a letter to Perez, advocating for the Center, but Perez apparently felt that it would cost more than $250,000 to keep it running.
On October 31, 2013, Foundation board member, Eddie Marquez moved, and RSCCD Trustee Nelida Mendoza Yanez seconded a motion that carried unanimously to authorize Perez to conclude the Women's Business Center project.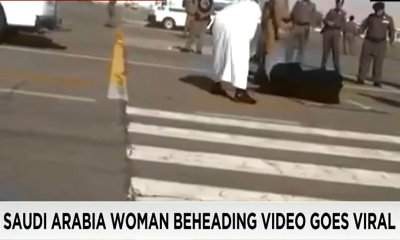 On February 19, 2015, Raul Rodriquez, as the authorized representative of the Foundation entered into a $250K preliminary agreement between fiveDLearning and the RSCCD ​Foundation for "Assistance to Joint Venture in Saudi Arabia" where the RSCCD​ Foundation​ will be consulting with two all-male schools that forbid women from attending or teaching.
Unbelievable.  Santa Ana College can't fund a women's center but opts instead to go help Islamic extremists in the Middle East that refuse to allow women to learn or to teach?
The RSCCD Faculty Association sent a cease and desist letter to various members of the district foundation, including Chancellor Raul Rodriguez, on April 16, giving them 30 days to terminate the deal or face a lawsuit. With the deadline approaching, Enrique Perez, the foundation's executive director, said there are no plans to halt the Saudi deal that could be worth up to $120 million, according to El Don.
Click here to email the RSCCD Trustees.  The Trustees include: Vice President Claudia C. Alvarez, Interim Student Trustee Hector Soberano, Jose Solorio and Nelida Mendoza Yanez; Phillip E. Yarbrough, Arianna P. Barrios, President Lawrence R. "Larry" Labrado and Clerk John R. Hanna.  They are all Democrats except for Yarbrough, who is a Republican, and Barrios, who is supposedly an independent.
Click here to view the RSCCD Foundation's Board of Directors.
FOUNDATION BOARD MEMBERS:
Claudia C. Alvarez, Trustee, RSCCD
c/o Anita Lucarelli
2323 N. Broadway
Santa Ana, CA 92706
lucarelli_anita@rsccd.edu
Arianna Barrios, Trustee, RSCCD
c/o Anita Lucarelli
2323 N. Broadway
Santa Ana, CA 92706
Lucarelli_anita@rsccd.edu
Kristin Crellin (President), Executive Director, School and Community Relations
SchoolsFirst Federal Credit Union
2115 North Broadway
Santa Ana, CA 92706
Cell: (714) 914-2478
kcrellin@schoolsfirstfcu.org
John Didion, Executive Vice Chancellor
Human Resources and Educational Services
Rancho Santiago Community College District
2323 N. Broadway
Santa Ana, CA 92706
Office: (714) 480-7489
didion_john@rsccd.edu
Rossina Gallegos, Director & Foundation and Community Outreach Officer/
Corporate Social Responsibility
Union Bank
445 So. Figueroa St., 401 Suite
MC G04-010
Los Angeles, CA 90071
Office: (213) 236-5865
rossina.gallegos@unionbank.com
Peter Hardash, (Treasurer) Vice Chancellor Business Operations/Fiscal Services
Rancho Santiago Community College District
2323 N. Broadway
Santa Ana, CA 92706
Office: (714) 480-7340
hardash_peter@rsccd.edu
Hector J. Infante, Manager, Policy, Government & Public Affairs
Chevron
145 S. State College Blvd, Suite 400
Brea, CA 92821
Office: (714) 671-3457
hectorinfante@chevron.com
Todd O. Litfin, Partner
Rutan & Tucker, LLP
611 Anton Boulevard, Suite 1400 Costa Mesa, CA 92626-1931
Office: (714) 641-3454
TLitfin@rutan.com
Eddie Marquez, Manager, Public Affairs Region
Southern California Edison 1325 S. Grand Ave. Bldg. B
Santa Ana, CA 92705
Cell (949) 422-8226
Eddie.Marquez@sce.com
Dr. Erlinda Martinez, President
Santa Ana College
1530 W. 17th Street
Santa Ana, CA 92701
Office: (714) 564-6975
martinez_erlinda@sac.edu
Nelida Mendoza Yañez, Trustee, RSCCD
c/o Anita Lucarelli
2323 N. Broadway
Santa Ana, CA 92706
lucarelli_anita@rsccd.edu
Enrique Perez, (Executive Director) Assistant Vice Chancellor, Educational Services
Rancho Santiago Community College District
2323 N. Broadway
Santa Ana, CA 92706
Office: (714) 480-7460
perez_enrique@rsccd.edu
Richard Porras, (Vice President) Regional Vice President
AT&T
1442 Edinger Avenue
Tustin, CA 92780
Office: (714) 259-6690
Richard.Porras@att.com
Dr. Raúl Rodríguez, (Secretary) Chancellor
Rancho Santiago Community College District
2323 N. Broadway
Santa Ana, CA 92706
Office: (714) 480-7450
rodriguez_raul@rsccd.edu
Dr. John Weispfenning, President
Santiago Canyon College
8045 E. Chapman Avenue
Orange, CA 92867
Office: (714) 628-4930
weispfenning_john@sccollege.edu