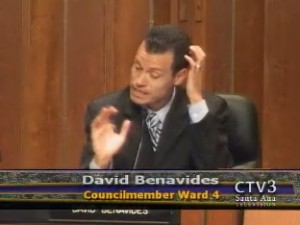 I almost fell out of my chair laughing today when I read that "Among the shifts Rourke made late in March, External Affairs Manager Jill Arthur was promoted to deputy city manager and installed as head of the city's community development agency, according to an email March 27 from O'Rourke to the city's management team," according to the Voice of OC.
Hilarious!  The Santa Ana City Council absolutely hates Jill Arthur and now their $22K a month temporary City Manager, Kevin O'Rourke, has effectively given her a raise!  For this they fired Paul Walters?  Unbelievable.
Arthur, who will replace retired agency director Nancy Edwards, will handle "the day-to-day operations of the agency" and "review and recommend changes to the agency's structure, staffing and operation," O'Rourke's email reads. Arthur will have the assignment for six months or until O'Rourke believes her "work there is complete," he wrote.
The Council Members are also still complaining "that Pulido, who has been mayor since 1994, still gets most of the attention from city staff," according to another recent Voice of OC article.  These people are just ridiculous! Pulido has no power anymore.  He cannot appoint anyone to the City Council's commissions.  He serves on only one commission now himself, the OCTA's Board of Directors.  And only because that Board is for Mayors.  He has absolutely no allies left on the City Council. And still they scream about him!  What a bunch of envious, petty loons.
But wait, there's more…
The City Council members have also blown their "Strategic Plan" deadline!  They said that they are unable to complete a comprehensive document by the deadline, which is parallel to the passing of a city budget in June.  And they admitted that "they have been too busy with behind-the-scenes haggling over the ouster of Walters, which consumed late December and January."  That is correct – rather than do the jobs they were elected to do they blew two months trying to fire Walters.  What a waste of time!
And here is the kicker – Councilman David Benavides "said he would be recommending changing the sunshine ordinance to extend the strategic plan deadline to December to allow ample time for community feedback."
Well how do you like that?  Now these guys are changing their Sunshine Ordinance!  I heard that Council Member Michele Martinez also wanted to be allowed to keep two calendars – one public and one hidden.  Did these people even know what their Sunshine Ordinance was when they voted for it?  Aye Dios…  This Santa Ana Spring is as lame as the Arab Spring!
UPDATE: The Voice of OC has posted yet another article full of whining by our inept Council Members.  Here is an excerpt, "Councilman Roman Reyna even suggested taking the usual pledge of allegiance away from the mayor and giving the role to community groups. He also asked that proclamations be granted in all council members' names, not just the mayor."