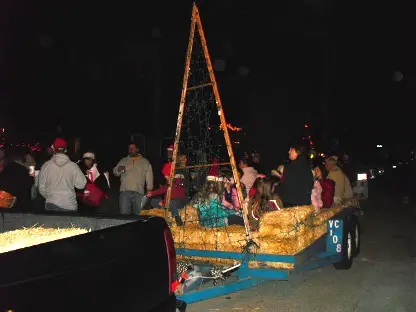 There is no better neighbor in my Park Santiago neighborhood than Blake Robinson.  He rescued my dog, Sparky, a few weeks ago when the wind blew down part of my fence and Sparky got out.  But beyond that, Blake is the driving force behind a Christmas holiday tradition that is a real hit with everyone in Park Santiago.
Every December, Blake and his family, friends and neighbors get together on a special night, which this time was on this Saturday night, for a special Christmas Hayride.  The hay bales are in a trailer that is decorated and hauled by Blake's truck.  Santa shows up every year for the hayride, and everyone brings their favorite dish – which is generally homemade chili or pasta, for a pre-hayride potluck.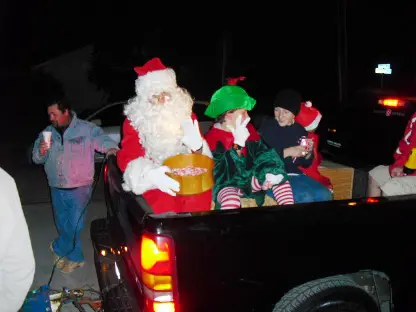 Once the hayride gets underway, the adults follow the trailer while joining in the singing of Christmas carols, and the kids take turns dropping off candy canes on the neighbors' doorsteps as the hayride makes its way through the neighborhood and then back to Blake's house for more fun.
It is always a lot of fun and it is part of what makes living in Santa Ana's Park Santiago neighborhood special.  Thanks Blake!
Click here to see a few more pictures.