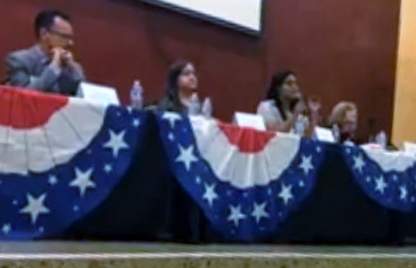 Supporters of SAUSD School Board candidate Carolyn Torres got pretty rowdy at last night's candidate forum. One of the event organizers eventually had to call the police but, it figures, the police did not arrive until after the forum was over.
I was at the forum at its start but did not stay for the whole event. I missed out on the Torres supporter shenanigans during the School Board candidates forum. However I did sit near them and they most certainly were hooting and hollering during the City Council candidates forum. They appeared to be supporting Manny Escamilla for Ward 4 on the Santa Ana City Council.
The pro Torres crowd represents the very far left fringe in Santa Ana. They should be ashamed of themselves for their behavior last night – but I doubt they are.