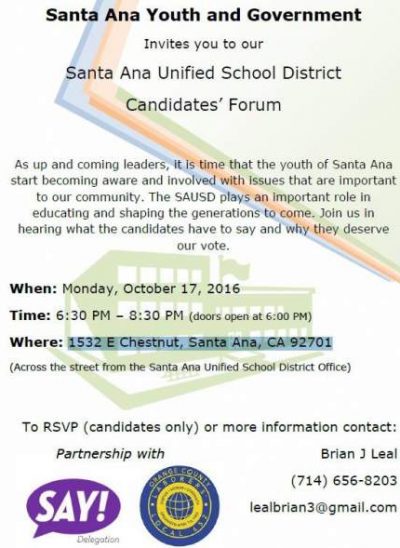 Santa Ana Youth and Government is hosting an SAUSD School Board Candidates Forum on October 17, 6:30-8:30 p.m. at 1532 E Chestnut, Santa Ana, CA 92701.
This is the 3rd candidates' forum hosted by the Santa Ana Youth and Government Delegation.

I am told that all of the SAUSD School Board candidates will be appearing at this forum. They include:
Bruce Bauer, a Santa Ana Planning Commissioner and attorney
Beatriz Mendoza, Santa Ana Planning Commissioner and a Field Rep. for U.S. Rep. Loretta Sanchez
Mark McLoughlin, a businessman and the President of the Board at High School Inc.
Dr. Alfonso Alvarez, a school counselor
Dr. Rigo Rodriguez, a college professor and former Santa Ana City Commissioner
Cecilia Iglesias, a current SAUSD Trustee
Angie Cano, a businesswoman and a graduate of SAUSD and UCI
Brian Leal, an alumnus of Santa Ana Youth & Government and commissioner of Parks and Recreation
for the City of Santa Ana, states, "It is so very important to encourage the youth and the community to be
involved in the election process, especially when it centers on the quality of education in our city. Our
candidate forums have been invaluable in helping bring this information to the public." The motto of Youth
& Government is "Democracy Must be Learned by Each Generation".
About Santa Ana Youth & Government
The Santa Ana Youth and Government is a Model Legislature & Court program targeted towards high school students in Santa Ana. It aims to empower the youth of Santa Ana through leadership, community involvement, and networking.
About Orange County Laborers Local 652
The hard work of the Laborers is a basic part of our whole economy and prosperity as a city, state and country. Local 652 is proud to represent over 3,200 workers in Orange County.