Latino Health Access hosted an SAUSD School Board candidates forum tonight. All of the candidates participated except for Cecilia Iglesias and Angie Cano.
Norberto Santana, the Editor of the Voice of OC, a digital publication, served as the event moderator. The questions however were not posed by him. Instead a panel of local intermediate and high school kids asked the questions.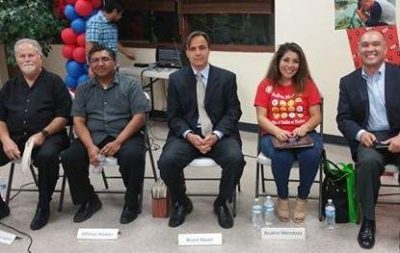 The format was interesting but Santana let the kids ask follow-up questions which I found to be very similar to their initial questions. And to make matters worse the candidates who were there, including Bruce Bauer, Beatriz Mendoza, Dr. Alfonso Alvarez, Dr. Rigo Rodriguez and Mark McLoughlin, are all Democrats who pretty much had the same answers to each question. In other words they all fell over each other trying to agree with one another.
The questions included fairly liberal topics such as Ethnic Studies, Restorative Justice, allowing the public to use school fields, and even LGBTQ bathrooms.
There were a few interesting nuggets that emerged tonight, including:
McLoughlin once had a bookkeeper who started out a man but transitioned into a woman
Mendoza had a brother who was deported for marijuana possession and a sister who was unable to finish school due to emotional issues
Rodriguez went to four high schools, two in Mexico and I believe he said the others were in Chicago and Detroit. He was bullied often as he was always the new kid in school. I guess he had the last laugh now that he is a successful college professor.
Bauer talked about how his daughter got into trouble in school but is now in her third year of pre-med school
The candidates all agreed to establish Restorative Justice at all the SAUSD schools instead of just the nine schools where this is being piloted. Restorative Justice is defined as "a system of criminal justice that focuses on the rehabilitation of offenders through reconciliation with victims and the community at large."
The candidates all also agreed that we need non-gender bathrooms at all our schools. And Mendoza noted that we need to teach kids about alternative sexuality in middle school instead of in high school.
The candidates also were all in agreement that we need to establish ethnic studies at all of our schools and we need the SAUSD and the City of Santa Ana to establish joint use agreements so the public can use all of the SAUSD's fields in off-school hours.
There were no questions tonight about school choice, the high drop-out rate in Santa Ana or the low graduation rates, at least in the time that I was there. I got bored and left when it was apparent that the candidates were going to spend the entire evening agreeing with each other.
I will load more videos tomorrow.