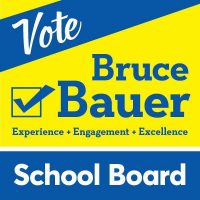 FOR IMMEDIATE RELEASE
Contact: Bruce Bauer, 949-293-5311 – bruce@bauer4sausd.com
Subject: CALIFORNIA STATE TREASURER, JOHN CHIANG, ENDORSES BRUCE BAUER FOR SANTA ANA SCHOOL BOARD
Santa Ana, CA – Demonstrating his potent force in the race for the Santa Ana Unified School District Board race, Bruce Bauer, currently the Vice-Chair of the City of Santa Ana Planning Commission collected a major statewide endorsement from California's State Treasurer John Chiang.
John Chiang is currently the Treasurer for the State of California and was elected to that position in 2014. Prior to Treasurer, John Chiang was the Controller for the State of California for the period from 2006 to 2014. He is widely regarded for his work both as the State Controller and Treasurer. He is considered a top-contender for the 2018 governor's race since his announcement that he will be running for that position in May of this year.
Responding to news of the endorsement, Bruce Bauer remarked:
"State Treasurer John Chiang's endorsement means a lot to me because of his well-deserved reputation in the State for fiscal security. It serves as evidence of my resolve to safeguard the monies that come into the Santa Ana Unified School District and to make sure these resources are used to protect our children and to improve the quality of Santa Ana schools. I look forward to working with Treasurer Chiang on my campaign in the months ahead."
"The endorsement of John Chiang comes on the heels of my endorsements by the Young Democrats that was announced last week. These endorsements, along with the endorsements of Senator Lou Correa and Congresswoman Loretta Sanchez, keep racking up. My campaign has a real wind on its back and there will be still other new endorsements announce shortly. "
The General Election is November 8th and three seats will be up this year on the board. For more information, please visit www.bauer4sausd.com.