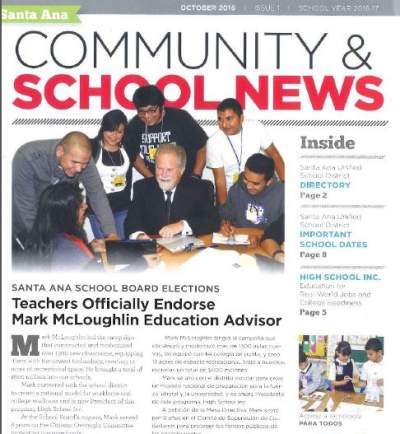 It looks like SAUSD School Board candidate Mark McLoughlin has ditched the other two candidates who were also endorsed by the Santa Ana Educators' Association – Dr. Rigoberto Rodriguez and Dr. Alfonso Alvarez. McLouthlin's campaign just dropped a mailer that omits any mention of Rodriguez and Alvarez and encourages voters to only vote for McLoughlin.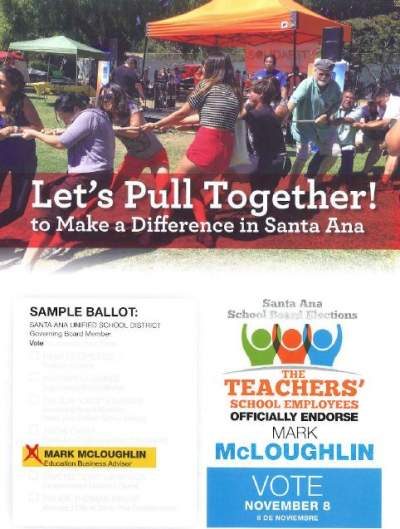 On one page of the mailer McLoughlin goes as far as to show the voters that they should only vote for him!
McLoughlin surrounds himself with Latino children in the mailer but this is the same man who worked to recall a previous SAUSD Trustee, Nativo Lopez because Lopez wanted to build a neighborhood school in McLoughlin's area. And McLoughlin has steadfastly opposed the completion of the Santiago Creek Bike Trail – reportedly because he doesn't want the city's youth to bother him and his neighbors by riding their bikes on the trail.
McLoughlin also got caught this year trying to use the ballot designation of teacher, until another School Board candidate, Planning Commissioner Bruce Bauer, called him on it and a judge forced McLoughlin to change his bogus campaign designation to "Education Advisor." He sits on the board of Neighborhood, Inc. and McLoughlin has no formal training in the field of education. He is a businessman.
We can see why the teachers' union endorsed Rodriguez and Alvarez as they are both accomplished teachers and counselors. Why in the world did the teachers back McLoughlin – and will the teachers regret backing him now that he has ditched his fellow candidates?