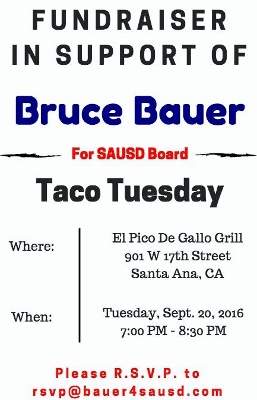 SAUSD School Board Candidate Bruce Bauer, an attorney and member of the Santa Ana Planning Commission, is hosting a Fundraiser for his campaign on Tuesday, Sept. 20, 2016 at El Pico de Gallo restaurant, located at Flower & 17th Street, in Santa Ana at 7:00 pm.
Suggested campaign donation: $40. RSVP to rsvp@bauer4sausd.com.

Bauer has the support of the SEIU and SAUSD School Board Members Valerie Amezcua and John Palacio. He is also endorsed by Santa Ana City Council Members, and teachers, Sal Tinajero and Angie Amezcua.